Fire crews gain ground in high desert north of Los Angeles as hills smolder from 2-day blaze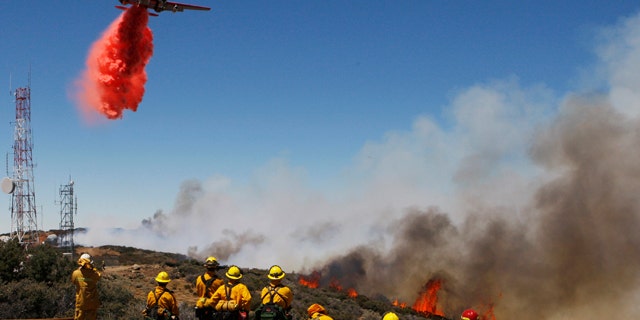 NEWYou can now listen to Fox News articles!
PALMDALE, Calif. – A wildfire smoldered in the high desert north of Los Angeles Saturday, spewing plumes of thick smoke that promted air quality warnings as hundreds of firefighters worked to contain the 2-day-old blaze.
The fire has charred nearly 22 square miles of brush in the Antelope Valley. It was 82 percent contained Saturday evening and no structures were threatened, said Los Angeles County Fire Inspector Don Kunitomi.
Some 1,300 firefighters were assigned to the fire near Palmdale, a city of 139,000. The crews were concentrating on digging up any remaining brush along the containment lines established around the blaze, Kunitomi said.
"The main objective is always to get a cold trail cut around the fire line," he said.
The firefighters' primary concern was that winds could re-ignite embers smoldering throughout the blackened hillsides, Kunitomi said.
Embers apparently carried by winds across an aqueduct late Friday prompted a new flare-up that approached homes and menaced power lines that deliver electricity to Southern California.
As many as 2,300 structures were threatened at the height of the fire late Thursday. Evacuation orders were lifted Friday morning, but some roads remained closed.
One house and three mobile homes were destroyed, authorities said, and much of the region's air remained smoky.
South Coast Air Quality Management District officials warned that air quality could reach dangerous levels in portions of the Antelope Valley, San Gabriel Mountains and southern Kern County.
The air regulators advised people with respiratory disease and other sensitivities to remain indoors, and for everyone in smoky areas to avoid heavy activity.
Deputy Fire Chief Michael Bryant said an investigation into the cause of the fire is centering on workers who were hammering on some bolts to remove a tire rim.
Crews also were working to snuff out a wildfire that has burned about 15 acres of heavy brush in the Angeles National Forest above Glendora, west of Pasadena.
Kunitomi said about 115 firefighters were assigned to the blaze that started Saturday morning, and it was 80 percent contained by late afternoon. Most of the fire was burning inside the forest and no structures were threatened, he said.
Elsewhere, good weather in neighboring Kern County helped firefighters build containment lines around two wildfires that destroyed homes in remote mountain communities earlier in the week.
Officials said a fire near Tehachapi that destroyed 23 homes and charred 2½ square miles of heavy brush was expected to be fully contained by Sunday.
To the north, a blaze that destroyed eight residences as it spread across about 26 square miles of the Sequoia National Forest in the Sierra Nevada was also expected to be contained this weekend.