Connecticut mosque blaze being investigated as arson, fire chief says
An inferno that broke out at a Connecticut mosque on Sunday during the holy month of Ramadan is being investigated as arson, fire officials said.
The fire, at the Diyanet Mosque in New Haven, was started around 4 p.m. and is believed to have been intentionally set, New Haven Fire Chief John Alston said Monday.
SUSPICIOUS FIRES AT HISTORICALLY BLACK LOUISIANA CHURCHES 'NOTABLY THE SAME,' LAWMAKER SAYS
Alston said investigators found evidence showing the fire was deliberate, but didn't provide further information, as he said it could obstruct the criminal investigation.
The investigation, which involves both state and federal authorities, has already begun.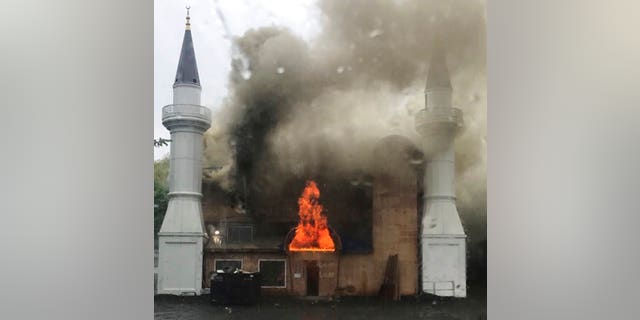 "We are taking this very serious," New Haven interim Police Chief Otoniel Reyes said. "We are working with our federal and state partners to make sure that there is no underlying issue to the greater community and to the greater religious community."
The fire began on the first floor of the mosque and grew to the second floor. Officials said that one person was inside the place of worship but was able to escape in time, leaving no one hurt.
TRUMP CITES RAMADAN AS TIME OF 'HOPE, TOLERANCE AND PEACE'
Fire officials have been working with the Diyanet Mosque to try to salvage religious artifacts since the fire broke out on Sunday, however, the building remains unusable, according to the fire chief.
Gov. Ned Lamont, a Democrat, said that "a hate-fueled attack on a religious institution — any religion — is disgusting and appalling."
CLICK HERE TO GET THE FOX NEWS APP
"There is no place for it in our state or our nation. We will work w/ our local counterparts in #NewHaven to assist in the investigation and ensure those responsible are held accountable," the governor tweeted.
Haydar Elevli, president of the mosque, said area churches have offered his congregation a place to hold services.
The Associated Press contributed to this report.