Has Bible-carrying El Chapo really found God? Skeptics aren't buying it
Accused Sinaloa Cartel drug lord Joaquin "El Chapo" Guzman is apparently playing the God card and is exercising his Catholic faith during his trial - though not everyone is buying it.
According to an official source connected to the case, the drug kingpin has perhaps conveniently "found Jesus" in the almost two years since he was extradited from Mexico to the United States.
The source said Chapo requested a Spanish-language Bible when he was brought to the U.S., after informing authorities of his faith and filling out the appropriate legal paperwork with the U.S Marshals. He is said to carry the Bible everywhere – including every time he leaves his cell. And it apparently "sits in his suit pocket during court," a source said.
"It is small like the size of an iPhone or wallet. It's like a travel edition," said the law enforcement source, who was not authorized to speak on the record. "I don't think he's reading any of it. He carries it like it's a symbolic peacemaker. I haven't seen him pray at all."
Beyond his Bible, Guzman's only reading material is in the form of legal paperwork. He is allowed absolutely no computer access, and up until the trial which began earlier this month, spend around 23 hours a day in solitary confinement.
"It seems like Chapo is trying to find religion as he sits in solitary confinement in prison," said Derek Maltz, former Special Agent in Charge of the Drug Enforcement Administration (DEA) Special Operations Division in New York.
Maltz and others have pointed out Guzman and his Sinaloa cartel were not particularly known to be as faith-driven as other rival cartels in Mexico. But in a region that is overwhelmingly Catholic, church-cartels relationships have a somewhat complicated history.
On the one hand, professing faith has been a popular tack with drug runners. A few years before being killed in 2014 shootout, Guzman's competing drug gang chief – Nazario Moreno Gonzalez, who first headed the La Familia drug syndicate before leading the Knights Templar Cartel – self-published his own 104-page booklet "Thoughts."
The faith-driven publication, brimming with crosses and images of Jesus, offered impassioned passage of "Christian living" advice - which included love and respect for others Cartel underlings were reportedly made to take up Bible study and pray the rosary - even if the next orders were to slaughter civilians or manufacture methamphetamine for the black market.
And while there is no evidence the Vatican in any way condoned or enabled suspicious dealings with the cartels, critics have accused the Catholic Church of speaking out harshly against the cartels in public, while quietly accepting "narco alms" - otherwise characterized as dirty money allegedly donated by cartel leaders to finance a variety of reconstruction and charity projects.
In 2009, a church in a poor neighborhood of the Mexican city of Pachuca unveiled a 65-foot-high metal cross. While celebrated by some, an accompanying plaque expressed gratitude to the since-killed top brass of the Zetas Cartel, Heriberto "The Executioner" Lazcano, as the sole benefactor for the project.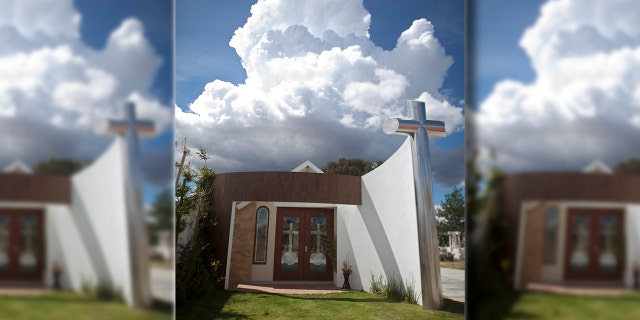 One U.S law enforcement official explained that devout cartel leaders have since taken to funneling money to the church through "middlemen" - leaving the church unaware of the real source of the donations.
"Religiosity is often employed in the service of deeper, more unconscious motivations. Some cartel members may speak in the name of religion in an effort to assuage a sense of personal guilt for their criminal actions," explained New York clinical psychologist, Dr. Norman Fried. "Psychiatric events such as mania or hypomania are often correlated with strong religious statements. The connection to religion is often intense, unwavering and all-consuming. Then the religiosity wanes, and the individual seems less interested in God."
CHAPO'S BEAUTY QUEEN WIFE LIVING LAVISHLY - AWAY FROM THE COURTROOM
MANIPULATION, FEAR, SNITCHES, AND A NEW CELL: BEHIND THE SCENES AS EL CHAPO GOES TO TRIAL
But concerns are also growing for the safety of church leaders in the face of intimidation and warnings by those very same cartels.
"Christian leaders are under threat from drug cartels in Mexico. Cartels target those who speak out against the scourge of drugs on their communities, which puts priests and pastors in their bullseye," said David Curry, President and CEO of Open Doors USA, a Christian watchdog group.
Curry noted the Vatican has indeed recognized the violence of persecution of Christians in Mexico but insisted the Mexican government can still "do more to protect easy targets like churches and priests in communities where the cartels are working and threatening the clergy."
In an official visit to Mexico in early 2016, Pope Francis – the first to hail from Latin America – encouraged Mexicans to thwart the lure of illicit drugs and cash. Yet despite an initial sense of hope, observers said, standing up to the violence remains very dangerous.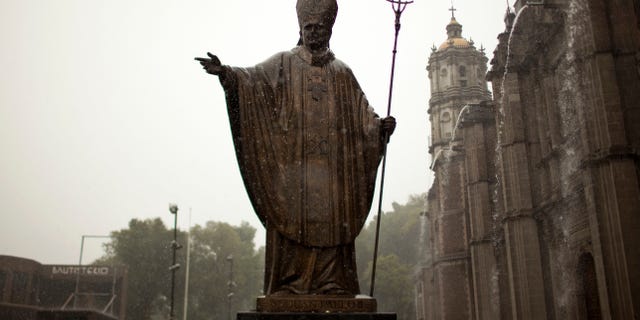 Some religious leaders have been forced to take desperate measures for their survival. Catholic priest Gregorio "Father Goyo" Lopez has taken to wearing a bulletproof vest from his pulpit in the southwestern state of Michoacán, after repeated death threats.
"I saw how they were killing my friends, my brothers, my sheep, as the pastor I have an obligation for speaking out," Lopez told TIME. "If a dog bites your children, and you do nothing, then you are worse than the dog."
Last year, reports surfaced that Mexican cartels had taken up forcibly "taxing" churches in their areas. While the practice was deemed to be "very common," most cases are believed to go unreported.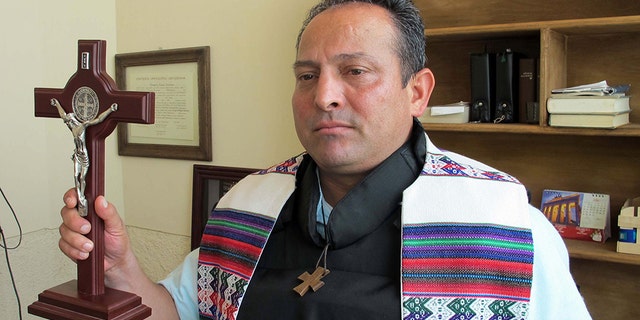 More than 30 church leaders have been slain in Mexico in the past decade, as documented by the Centro Catolico Multimedial – directly or indirectly caught in the crossfire. In 1993, the Church's top official, Cardinal Juan Posadas Ocampo, was shot dead at the airport in Guadalajara, Mexico.
"The Roman Catholic Church has expressed concern that violence and corruption have diminished the number of parishioners in the past decades, although Mexican drug cartels have also been increasing their donations to various Mexican Catholic dioceses," explained J.T. Patten, a former government intelligence operative. "In hearts and minds campaigns for the power to rule people, it is less about religion and more about who can control the message to the masses."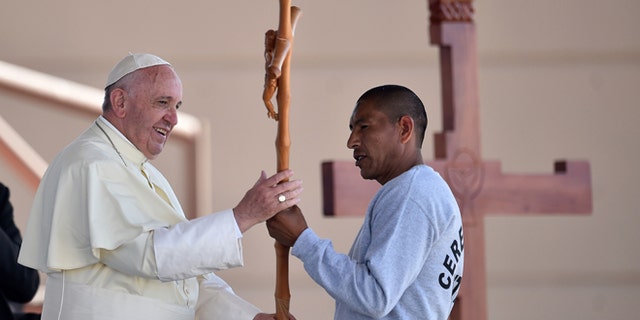 As for Chapo, he "always saw himself as some kind of Robin Hood," observed one Mexican law enforcement source. "It is part of the branding."
That might explain the presence of a six-inch figurine of Mexico's "narco-saint" Jesus Malverde, a popular figure with those in the drug trade, in the conference rooms for Guzman's defense team at the Brooklyn courthouse. The "generous bandit" hailed from Sinaloa in the 19th Century, and was said to have stolen from the rich to give to the poor.
"Most cartel leaders don't believe that what they are doing is wrong. Many can feel like they are just doing what they need to in order to feed their families or make a living; considering themselves 'family men'," added Kati Morton, a California-based licensed therapist. "In a way, they compartmentalize their life, and therefore still believe that religion and God are important and necessary. If they ever do feel guilty or like they have done wrong, if they ask God for forgiveness, they can let go of their guilt and be okay."
The Vatican and Guzman's lawyers did not immediately respond to a request for comment.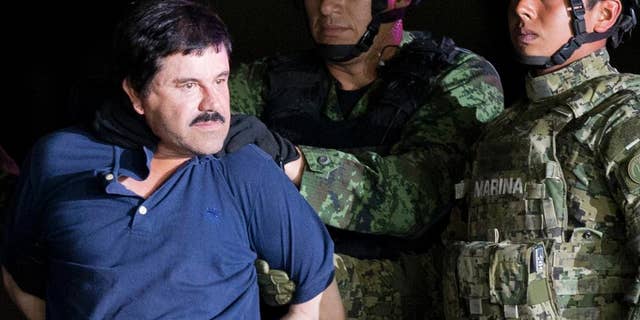 But for many U.S. law enforcement professionals, such proclamations of faith when facing the fate of the judicial system is a tried and true hat trick pulled by everyone from mobsters to gangsters to serial killers to drug lords.
"I wouldn't know what's in anyone's heart - only they and God know that. But I highly doubt that the likes of Chapo and any money they gave to the Church was not achieved by killing a few hundred people and running drugs," added Craig Caine, retired Inspector United States Marshal's Service, Eastern District of New York and the New York and New Jersey Regional Fugitive Task Force.
"In other words, they are full of sh*t. This is part of the business. That's it."