Manipulation, fear, snitches, and a new cell: Behind the scenes as El Chapo goes to trial
He's been called everything from the Usama bin Laden of the drug cartel world to the most "ruthless, dangerous, and feared man on the planet."
But starting Tuesday, 61-year-old Joaquín Archivaldo Guzmán Loera – better known as "El Chapo," or "shorty" in Spanish slang – will finally face a court of law, accused of running the infamous Sinaloa drug cartel, generally regarded as the world's largest.
U.S. law enforcement sources connected to Guzmán told Fox News the accused drug lord is generally very quiet and well-behaved in custody, and keeps almost entirely to himself behind bars. But officials also say he's not talking, and has refused to cooperate with any type of intelligence sharing or plea agreement – even with the caveat of long-term protection for his 29-year-old beauty queen wife, and twin seven-year-old daughters.
Guzman's lawyer Eduardo Balarezo confirmed to Fox News there "have been no plea negotiations, no plea offers - and there will be no plea." He added that since his arrest, Guzmán has firmly insisted he wants his "day in court."
Balazero didn't reveal his defense strategy for the trial. But he has in the past contended potential prosecution witnesses should not be trusted. He has also suggested Guzman was merely a "middle manager" in massive cartel he's accused of ruthlessly running.
Some government officials connected to the case contend Guzmán is arrogant enough to think the legal system can be manipulated here, in the same way he was able to manipulate corrupt tiers of the Mexican government.
"When he first arrived in the United States, he was shell-shocked it had finally happened," said one U.S.-based law enforcement source. "But now, he is a lot more comfortable, knows how to play the game."
The trial is expected to cost upwards of $50 million, and one U.S. official well-versed in the case told Fox News it will likely go longer than the already anticipated four months, given the encroachment of the holiday season and the litany of breaks in the court schedule.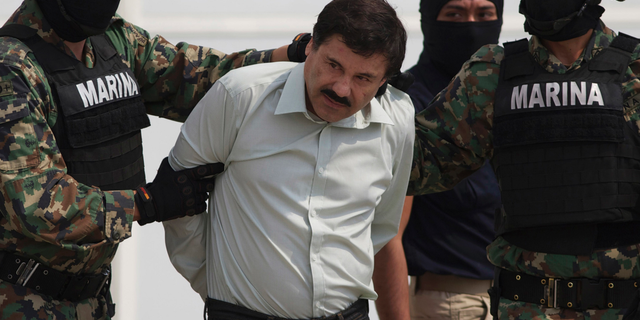 That opinion is shared by Andrew Lewis, president of a private intelligence firm, the Ulysses Group, and former deputy director of the counter narco-terrorism task force in the U.S. Department of Defense.
"I would be surprised if it wrapped up in four months. The government's case undoubtedly utilizes sensitive information and intelligence which requires parallel construction for the prosecution, so that they don't have to expose our intel operations and capabilities with respect to Mexico and the cartels," he said. "The danger here is that the defense is entitled to all the prosecution's evidence, barring some exception. The defense will want to gain access to the government's sources and methods used against El Chapo and the cartel. "
That could not only help the defense's case, but damage ongoing efforts against the cartels, and lead to the targeted killing of those who helped the government.
Stringent security measures have been implemented in preparation for the much-anticipated trial. Given the breadth of Guzmán's reach, and his alleged past use of hitmen, prosecutors have successfully pushed for an anonymous jury. Their identities will remain concealed behind a thick cloak of secrecy, as approved by U.S. District Court Judge Brian Cogan, the judge who will hear the case.
Heavy security and high-tech scanners have been installed at the federal courthouse in Brooklyn where the trial is being held. Guzmán himself will be held in the bowels of the courthouse in a specially designed cell, which will comes as relief to the thousands of New Yorkers who will no longer have to deal with the bridge and roadway closures that take place every time he is transported from his current downtown Manhattan holding facility. Bomb-sniffing dogs will also patrol the area outside the courthouse, and entire block closures will still be instituted during some days.
The identities of at least 16 cooperating government witnesses will also remain secret. Several of the witnesses are believed to be high-ranking cartel members who are already behind bars, while their families are in witness protection programs. In July, a former Guzmán right-hand man, Damaso Lopez, was flown to the U.S. from a Mexican prison, where he is now being regarded as a key witness.
The jury will ultimately determine whether Guzmán is guilty of 11 trafficking, money laundering and firearms charges. He has pleaded not guilty to all charges. He faces life behind bars, but not the death penalty, due to an extradition deal with Mexico.
Guzmán has been accused of running his operation from behind bars, and has twice managed to escape Mexican prison – once with the assistance of heavy cash payments and expert underground tunnel work. In the dead of the night on Thursday, January 19, 2017, Guzmán was extradited to New York.
The treaty agreement, according to one U.S. government source, required delicate wording in which the Mexican government was able to seek a certain level of guarantee that it would not be embarrassed or negatively implicated by the release of evidence.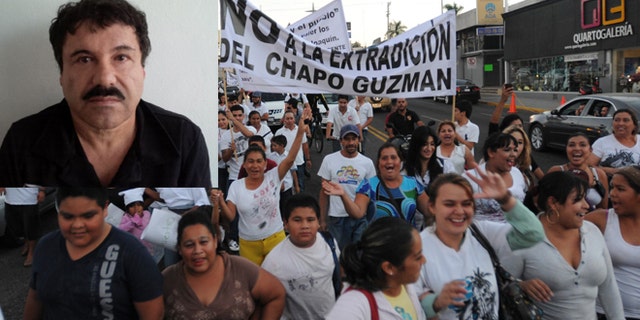 David Gaddis, CEO of international protection firm G-Global Protection Solutions and a former chief of enforcement operations at the Drug Enforcement Administration (DEA), explained extradition is a "very delicate" process. Because Mexico does not allow extradition for a suspect who might face the death penalty in another country, the U.S. in 2016 quietly dropped murder charges from the indictment.
The U.S. is still seeking the forfeiture of "more than $14 billion in cash proceeds from narcotics sales" from Guzmán. While some sources said it would be impossible to recover that much money, sources have told Fox News his worth is likely much higher.
Meanwhile, Guzmán has complained about the conditions in which he is being held, and has become an unlikely advocate for prison reform. He is under heavy guard in what is called 10 South, the most iron-clad security area in New York's Metropolitan Correctional Center. The cells are small, and the lights are bright, and Guzmán is alone for 23 hours – afforded an hour a day to watch television or exercise.
In a series of court filings, Guzmán's legal counsel have bemoaned the conditions of his confinement, arguing they violate his rights and contribute to his ailing health.
Given all that's known about him, what else may unfold about El Chapo that hasn't already been documented in scores of books, Hollywood depictions, and hundreds of articles?
"We will gain insight into the cartel's network – production and distribution arms, but most importantly the money laundering side of the cartel where legitimate and illegitimate businesses, attorneys, accountants, and officials functioned to wash and move money for the cartel," said Lewis. "Years ago, OFAC (the Office of Foreign Assets Control) identified approximately 300 companies associated with El Chapo and his money laundering activities, and there are many more than this. And we will get some insight into the security apparatus of the cartel - technology used, tactics, corrupt officials, violent activities, etc."
BURMA DOUBLES DOWN ON CLAIMS TO JUSTIFY TREATMENT OF ROHINGYA MINORITY
QUESTIONS ARISE OVER POLITICS, MOTIVATION OF CARAVAN ORGANIZERS
Then there is the personal side of the trial. Guzmán is reported to have fathered 13 children, and has apparently married at least three times. His California-born Mexican beauty queen, Emma Coronel Aispuro, is 32 years his junior.
One Mexican law enforcement source called Coronel "very loved" by Sinaloa cartel members. And given she is "on a few hit lists" from rival cartels, is "very well protected."
"There is a running joke among them that they don't need to waste resources keeping surveillance on her though," said the source. "But the U.S. government is doing it for them, making sure she stays alive."
Indeed, one US intelligence source said Coronel's movements are well-known. She has traveled from California to several court dates in New York, and may remain for the trial.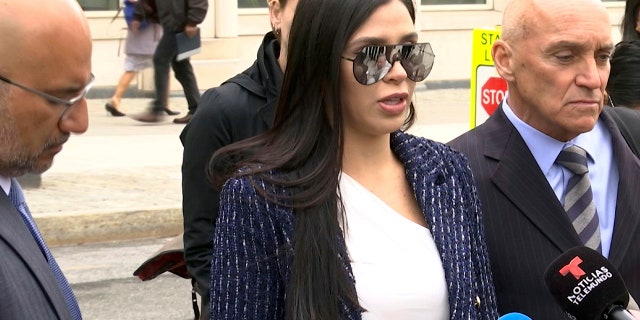 The Sinaloa Cartel has long funneled tons of cocaine into the U.S., and on to its various distribution cells. It also traffics in marijuana, MDMA, methamphetamine, and heroin. Guzmán's indictment claimed that under his leadership between 1989 and 2014, the organization became the "largest drug trafficking organization in the world."
The cartel's success made it popular with some in Mexico.
"El Chapo's initial popular support came from his ability to engage and relate to citizens in need. He did not initially intimidate, threaten, or bully, but instead displayed as a benefactor," said J.T Patten, a former government intelligence operative. "Mexico, known for its corruption and poverty where politicians have failed, had a void in connecting to the people. Men like El Chapo exploited that fissure for a foothold of popular support giving the people work, money, and protection. A Robin Hood type."
But one U.S. government official noted the level of killing attributed to his cartel in recent years is beyond sickening. "Day after day pictures of people decapitated, tortured, their hands and feet cut off. Women too, it doesn't matter," said the insider. "There is no care for human life. This killing is cold-blooded."
But without their infamous leader, how strong is the notorious Sinaloa cartel?
One Mexican law enforcement official, who requested anonymity, said that "fragmentations" in Sinaloa have become evident since Guzmán's absence and that other cartels have been encroaching on what was once absolutely undisputed turf.
The source also emphasized that while two of Guzmán's sons are said to have inherited the top positions in Sinaloa, it is really a veteran drug lord, 70-year-old Ismael Zambada Garcia, better known as "El Mayo," who has taken over.