Final arguments made in ex-trooper's murder trial in Detroit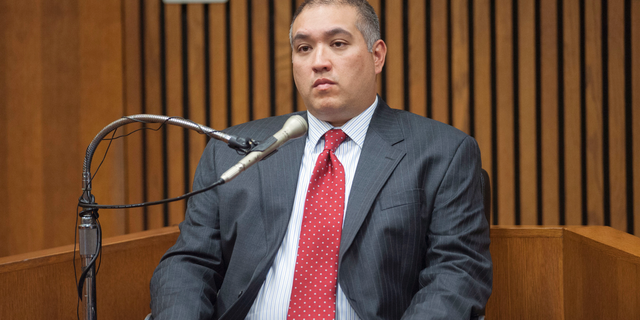 DETROIT – A prosecutor urged jurors on Monday to convict a former Michigan state trooper of murder in a Detroit boy's death, saying it defied "common sense" for him to fire a Taser at a 15-year-old who was driving an all-terrain vehicle at high speed without a helmet.
Damon Grimes, who was black, crashed the ATV and died after he was struck by Mark Bessner's Taser. The August 2017 incident on a Detroit street caused the state police to change its policy and stop high-speed chases for routine traffic offenses.
Bessner, who is white, is charged with second-degree murder. Jurors also can choose involuntary manslaughter. Bessner quit the state police after Grimes' death.
"Common sense tells you no one on God's green earth thinks it's a good idea to shoot a Taser at someone who's not wearing a helmet, who's going that fast. ... Was that reasonable? The answer is no," assistant prosecutor Matthew Penney said in his closing argument.
Bessner, who has a history of questionable Taser use, fired the immobilizing weapon from the passenger seat of a moving patrol car. At one point, his partner was driving at 61 mph (98 kilometers per hour).
Bessner last week told jurors that he believed Grimes had a gun. The teen wasn't armed.
Defense attorney Richard Convertino urged jurors to put themselves in Bessner's shoes at the time and not use "20-20 hindsight." He acknowledged that Grimes' death was an "unspeakable tragedy."
"Maybe this was a joyride. Maybe it was exciting. Maybe it was fun. Fifteen-year-old boys do those kinds of things," Convertino said. "Trooper Bessner at the time didn't know any of that. He had no idea what was in the mind of Damon Grimes."
Jurors were dismissed for the day at 4 p.m. after failing to reach a verdict during a few hours of deliberations.
State police officials supported the Wayne County prosecutor's decision to charge Bessner.
___
Follow Ed White at http://twitter.com/edwhiteap
___
The Latest on Bessner's trial: https://bit.ly/2CM029Q