Ferry crashes into dock in San Francisco injuring 2 people, prompting Coast Guard investigation
Two people were injured after a ferry boat crashed into a dock at San Francisco's famed Ferry Building on Friday that was captured on video and prompted an investigation by the U.S. Coast Guard.
The ferry, named "The San Francisco Vessel," had 53 passengers onboard when it slammed into the dock around 2 p.m., officials told KTVU.
Video taken by Tiffany Dennis shows the boat approaching and then hitting the dock as stunned onlookers yelled in the background. The vessel's hull was damaged when it struck the concrete promenade and knocked a guardrail.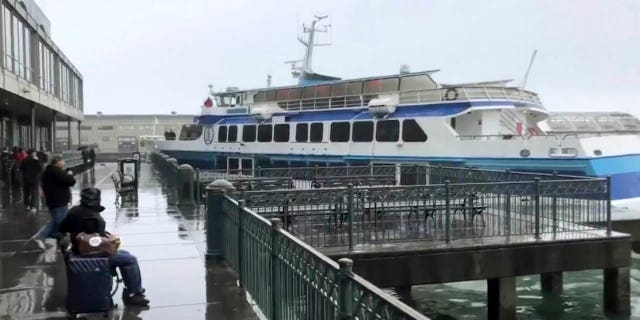 Dennis told the Associated Press the crash set off a panic among a crowd of people dining and shopping at the waterfront attraction.
DEAD SEA LIONS, SOME WITH GUNSHOT WOUNDS, WASHING UP ALONG SHORE NEAR SEATTLE
One passenger was treated at the scene for a bruised hip, while another person reported injuries to their back but declined further medical treatment.
Coast Guard spokesman Chris Shih said Saturday that investigators are looking into mechanical issues and other factors that led to Friday's crash. A spokesperson for the Golden Gate Bridge District, which operates the ferries, told KTVU that the cause of the crash appears to be mechanical.
The Associated Press contributed to this report.