FEMA head denies intentionally misusing federal vehicles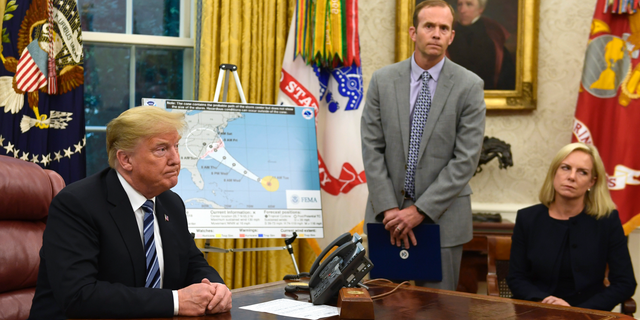 WASHINGTON – The head of the government's disaster relief agency said Thursday he never intentionally misused federal vehicles, following a report he was under investigation by the Homeland Security Department's internal watchdog.
Brock Long discussed the investigation, first reported by Politico, at a briefing on Hurricane Florence, saying he would cooperate and own up to any mistakes.
"Doing something unethical is not part of my DNA and it's not part of my track record in my whole entire career," said Long, who leads the Federal Emergency Management Agency.
Long said the inspector general was looking into vehicle usage, but he didn't confirm that the review concerned his use of an official vehicle. Politico reported Long was under investigation for possibly misusing government resources and personnel on weekend trips home to Hickory, North Carolina.
Tyler Houlton, a spokesman for Homeland Security, FEMA's parent agency, referred questions to the inspector general's office, which didn't immediately respond to a request for comment.
Houlton said in a statement that Homeland Security is "fully focused on preparing for, responding to, and recovering from Hurricane Florence and the storms in the Pacific."
He said Secretary Kirstjen Nielsen "is confident in the leadership at FEMA and their proven disaster management ability," he said.
Other Trump Administration officials have been investigated for ethics issues related to travel.
The former head of the Environmental Protection Agency, Scott Pruitt, resigned in July after allegations of outsized security spending, first-class flights and a sweetheart condo lease. Veterans Affairs Secretary David Shulkin was fired in March amid questionable travel charges and a growing rebellion in his agency about the privatization of medical care. Health and Human Services Secretary Tom Price was fired last year after it was disclosed he took costly charter flights instead of commercial planes.
Long, who took over last year shortly before Hurricane Harvey struck, said he didn't want the investigation to detract from preparations for a major storm was heading for the U.S.
He said he was "100 percent focused" on the Florence, which was barreling toward the Carolina coast.