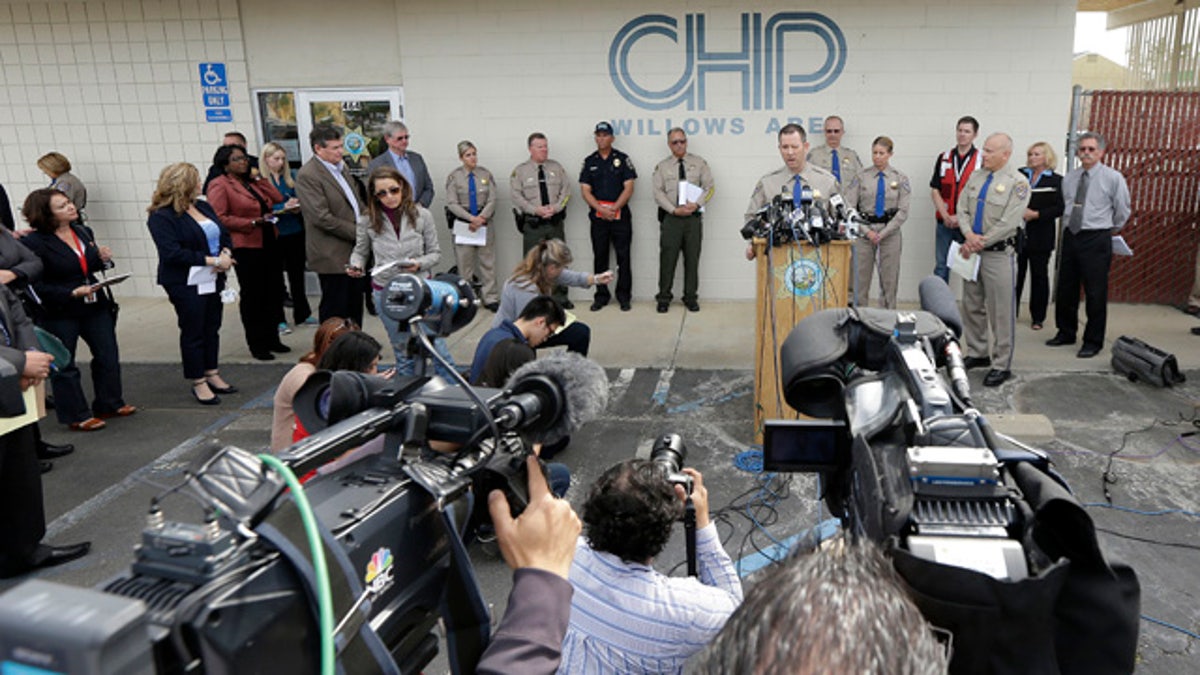 RED BLUFF, Calif. – Federal transportation authorities are investigating ways to minimize death and injuries in bus crashes following the fiery wreck leaving 10 dead when a FedEx truck slammed into a bus carrying high school students in Northern California.
On Thursday, the truck driver veered across the Interstate 5 median, sideswiped a sedan and collided with the bus, leaving no tire marks to suggest he had applied his brakes. Dozens of injured students escaped through windows before the vehicles exploded into towering flames and billowing smoke in Orland, Calif., 100 miles north of Sacramento. The sedan driver told investigators the truck was in flames before the crash, but the National Transportation Safety Board investigators found no physical evidence of a pre-impact fire or other witnesses to confirm that account.
The bus was carrying 44 students from Southern California for a free tour of Humboldt State University. Many were hoping to be the first in their families to attend college. Five students, the three adult chaperones and both drivers died.
"The worst thing for the NTSB is to show up, know that we've issued recommendations from a previous accident where lives have been lost . and find out (that) if those recommendations had been closed and enacted, lives could have been saved," NTSB member Mark Rosekind said Friday.
His agency has long advocated for seatbelt, emergency exits and fire-safety rules to protect bus passengers. But federal agencies are often slow to heed the call. The California case can reinforce the need for regulations or expose the need for new rules, Rosekind said.
The investigation will also consider if bus manufacturers can learn lessons from voluntary measures taken by Silverado Stages, which has a strong safety record and owned the bus that was destroyed Thursday.
Under a rule sought for almost a half-century by investigators, all new motor coaches and other large buses must include three-point lap-shoulder belts beginning November 2016. Although Silverado Stages' bus, a brand new 2014 model, had seatbelts, passengers were found dead and thrown from the bus. Rosekind said it's difficult to issue guidelines to enforce seatbelt use while they aren't mandated.
"In the absence of a flight attendant, the likelihood of anyone on a bus buckling is slim," said Larry Hanley, president of Amalgamated Transit Union representing bus drivers and advocating for policies reducing driver fatigue.
Regulators did not require existing buses add seatbelts because it would have been too expensive.
The transportation board has also called for measures to detect and suppress fires and make buses less vulnerable to blazes after 23 nursing-home evacuees escaping Hurricane Rita in Texas in 2005 died in a bus fire.
Bodies recovered from the bus in California were charred beyond recognition, although it's unclear if they died from impact or fire. Rosekind said investigators will examine the materials and design of the bus to withstand fires.
But fire-suppression systems, which the government is considering mandating in 2015, are designed with fires that start in engines and wheels in mind. The systems, akin to a hand-held extinguisher automatically dousing the first embers and sparks, aren't suited for massive blazes following collisions, said Joey Peoples, a vehicle fire safety expert for SP Fire Research.
"Once you have a fire, it's now simply a matter of how do we buy enough time to evacuate all the passengers," Peoples said.
Almost every window on the bus involved with Thursday's crash was available as an emergency exit, Rosekind said Sunday. Students escaped through them before the fiery explosion that devoured the vehicles. Investigators will examine if the windows were well-labeled and easily opened.
Safety standards to make large buses easier for passengers to escape after a crash have not been adopted 15 years after accident investigators called for new rules. They came after passengers in a tour bus following the trail of the Underground Railroad struggled to escape through windows after the bus tumbled down an embankment and overturned in a river in 1997.
A preliminary NTSB report on the Northern California crash is expected within 30 days. The entire investigation can last more than a year.
State officials led by the California Highway Patrol say they expect to identify the cause in three to six months. They are cooperating with federal authorities to find out why the truck driver veered into oncoming traffic and never applied brakes.
The bus' black box-style electronic control module was recovered, and investigators will use other tools to reconstruct the truck's speed and maneuvers. Blood tests can tell if the drivers were impaired. The investigation will also review maintenance records and the drivers' medical histories.