Feds go digital in hunt for fugitive 'Ship of Gold' treasure hunter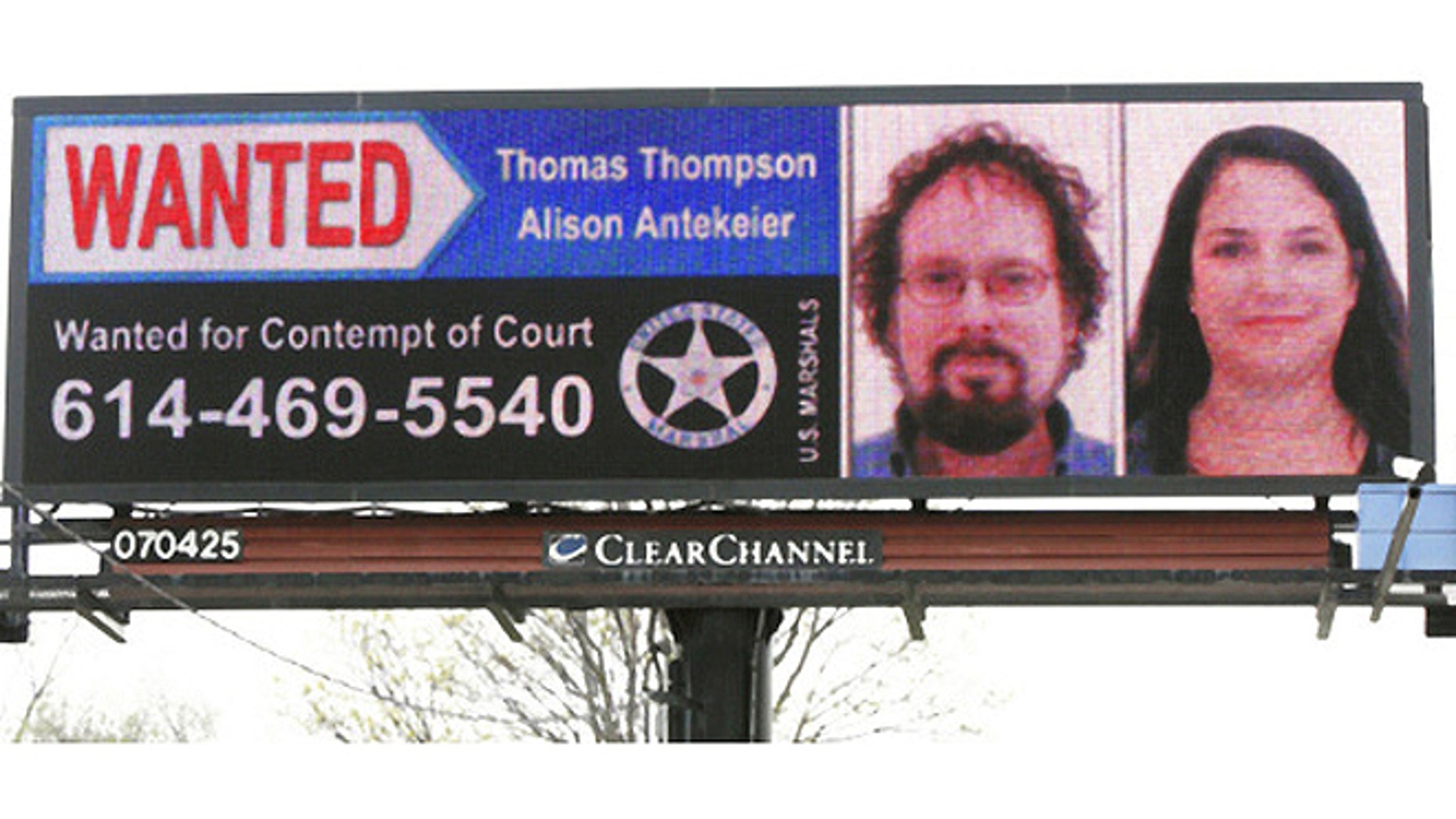 The search for a treasure hunter who found sunken gold and then stiffed his partners by vanishing with the loot could be coming to a highway near you.
The U.S. Marshals Service began using alerts on digital billboards in Ohio and Florida late last month to locate fugitive treasure hunter Tommy Thompson, who remains wanted after failing to appear in an Ohio court last year following his 1987 discovery of millions of dollars in gold bars and coins from the SS Central America, a 280-foot ship that sank during a hurricane off the North Carolina coast in 1857.
"They've generated some tips, but obviously not as many as we'd like to see," Brad Fleming, a deputy U.S. marshal in Columbus, told FoxNews.com of the 10 billboards. "We haven't received the right tip yet, so to speak."
The billboard notices also include an image of Thompson's assistant, Alison Antekeier, 45, whose arrest was ordered by U.S. District Judge Edmund Sargus Jr. in August along with Thompson after they failed to appear in court in Columbus.
[pullquote]
Thompson, 60, who sold bars and coins salvaged from the wreck to a California mint for $52 million, grew up in central Ohio and spent a large portion of his adult life in Columbus. Antekeier also lived in Columbus until she moved with Thompson to Vero Beach, Fla., where the couple had been living as recently as last year, Fleming said.
Exactly how much gold recovered from the sunken ship's gold remains unclear, although investors who ponied up for Thompson's search claim they are due millions. His team of nine technicians is seeking more than $2 million and have been fighting for their cut in court for years.
"There is very little reason to doubt that these plaintiffs will prevail and in an amount in excess of $2 million," Michael Szolosi, an attorney for the technicians, told FoxNews.com in August. "And all they see from the defendants is delay, delay, delay."
Szolosi said Thompson has never shown up in court and said he has never laid eyes on him. Thompson's former attorney, Avonte Campinha-Bacote, told FoxNews.com last year that his client was "at sea."
Since that time, Campinha-Bacote's firm has withdrawn as Thompson's counsel due to an inability to communicate with him.
Fleming, meanwhile, said authorities hope the billboard notices, which appear for seconds between paid advertisements, will lead to an increase in tips connected to the pair.
Sargus last year temporarily blocked the sale or transfer of 500 restrike gold coins made from some of the discovered gold. Those coins were included in part of a deal in 2000 to sell rights to the remaining treasure to the California Gold Marketing Group for $52 million, leaving about $30 million after the cost of recovery efforts. The judge also ordered Thompson to disclose the location of those coins, as well as funds from a trust.
"We have reason to believe that the 500 coins still exist somewhere and that's why it's so important for [Thompson] to come to court as he's been ordered and to answer what the plaintiffs and the judge want answered," Szolosi said of the 2.5-ounce coins. "We want those assets held."
Thompson has faced several additional legal battles over claims to the gold by insurance companies, rival salvagers regarding returns that were expected by a group of 161 investors who paid $12.7 million in the mid-1980s to find the historic wreck, including The Dispatch Printing Co., which publishes The Columbus Dispatch.
In 1998, after years of litigation, Thompson and his companies were rewarded 92 percent of the recovered gold, with the remainder going to insurance companies that paid claims after the steamship sank, according to the Dispatch.
Eight years later, led by Michael Williamson of Seattle, the team of nine technicians sued in federal court to seek the millions they claim is due to them for locating the most famous shipwreck of its time. Those technicians and investors who funded Thompson's dream have yet to see any profits from the high-tech recovery mission and the "bizarre" legal battle that has followed, Szolosi said.
The SS Central America, which was dubbed in maritime lore as the "Ship of Gold," sank during a hurricane in the Atlantic Ocean in 1857, taking 425 souls and up to 21 tons of gold to the ocean floor some 8,000 feet deep. The gold had been shipped from San Francisco down to the west coast of Panama, then sent by rail to the Central American nation's east coast and finally loaded onto the steamship bound for New York.