FBI Launches Media Blitz in Hopes of Nabbing Serial Rapist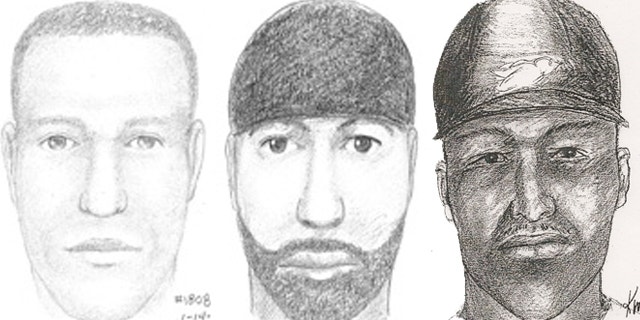 Authorities in seven states are launching a media blitz to capture the "East Coast Rapist," who has attacked at least 12 women and evaded police for nearly 14 years.
The FBI, aided by police departments in seven states, announced a digital billboard campaign Monday in the hopes of nabbing a man who has assaulted women in states from Virginia to Connecticut, and as far back as 1997.
Black and white sketches of the rapist's face are set to appear on billboards in Maryland, Virginia, Delaware, Connecticut, New Jersey, New York and Rhode Island, the FBI said. The images can also be seen on Facebook and Twitter, as well as a newly launched website that includes maps and other details of the attacks.
Investigators hope the new media attention will catch the rapist before he strikes again.
"These billboards give each local police department, and the FBI, an added edge to identifying, locating and apprehending the subject," said Ronald Hosko, Special Agent in Charge of the criminal division in the FBI's Washington field office. "The public is the most important tool law enforcement has for solving crime."
The FBI said the suspect's DNA links him to at least 12 attacks or attempted assaults.
Authorities say the man's first known attack was in February 1997 in Forestville, Md. From there, he targeted women in Virginia, Connecticut and Rhode Island. His most recent assault was in Woodbridge, Va., on Oct. 31, 2009. The man allegedly attacked three teenage girls at gunpoint in a wooded ravine as the children headed home after a night of trick-or-treating. The man, who barely escaped police capture, allegedly raped the two 17-year-old girls while their 16-year-old friend managed to text message her mother for help.
The FBI said the suspect typically approaches women while on foot, threatening his victims with a knife or gun and asking them for money. But the man – sometimes wearing a black mask or hooded sweatshirt – doesn't steal anything after the attack is over, authorities said. The FBI said the man has targeted black, white and Hispanic females.
The suspect is described as a black male, who may have a chipped or missing tooth. Descriptions of the man's height range from 5-foot-7 to 6-feet tall. In some instances, the man was reported to be wearing leather or latex gloves.
In 2009, a special task force was created to capture the suspect. Prince George's County Police Department is offering up to $25,000 for information related to the investigation.
Authorities are urging anyone with information on the suspect or the attacks to contact the Crime Solvers hotline at 1-866-411-TIPS.