'Faux Badge Bandit' hits two more banks as officials seek tips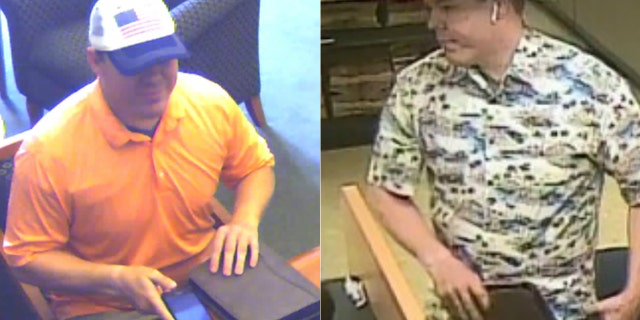 Authorities in California are on the hunt for the so-called "Faux Badge Bandit" after the man allegedly robbed several banks up-and-down the Golden State.
The suspect is described as male and being about 6-feet tall. He wears a seven-pointed sheriff's badge on his hip and carries a gun in a holster while he impersonates a police officer.
The "Faux Badge Bandit" robbed a bank in San Ramon and another in Danville on Thursday, putting law enforcement officials on high alert, according to KTVU.
"During the robberies, the suspect enters the bank carrying a bag and presents a note demanding cash. The suspect has threatened victim tellers that he would shoot co-workers if the victim did not comply with his demand," the FBI said in a news release.
Surveillance footage from the man's latest robberies showed him in a cabana-style button-up shirt with a straw-brimmed hat in San Ramon and in an orange golf shirt in an American flag hat in the Danville bank, according to CBS San Francisco.
"We think there's someone out there that knows who this person is," Santa Clara County Sheriff's Sgt. Rich Glennon told KTVU. "His trademark is a wide brim hat. He's also used a ball cap, but he's quite identifiable."
Officials launched the hunt for the suspect on May 31. He has been linked to bank robberies in La Verne, Pasadena, Claremont and Santa Clarita, according to an FBI news release.