Father: Military policeman from Maryland was victim in shooting at Navy base in Virginia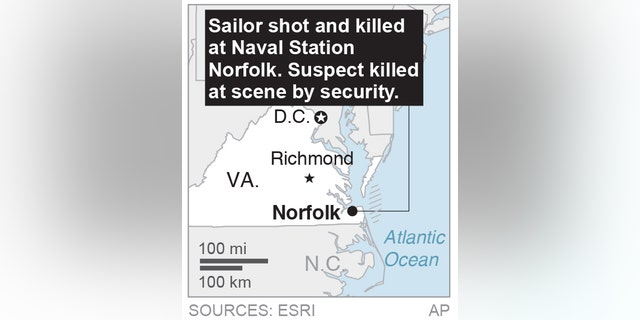 NEWYou can now listen to Fox News articles!
HAGERSTOWN, Md. – The father of a military policeman from Maryland says his son was the victim killed when a civilian approached a destroyer docked at a naval base and disarmed a sailor on watch.
Decondi Mayo says a Navy representative told him Tuesday that his son Mark Mayo had been killed.
Decondi Mayo spoke to The Associated Press on Wednesday outside a Hagerstown home.
Mark Mayo's mother, Sharon Blair, tells The Herald-Mail newspaper (http://bit.ly/1fhiiSs) her son spent his adolescence in the home and was 24 when he was killed in the Monday shooting at the Norfolk, Va., base.
Navy officials say a civilian approached the USS Mahan, disarmed a sailor and shot another who came to help. They haven't identified the civilian.
Blair tells the paper Mayo had been a military policeman since completing special forces training in 2008 and patrolled the base.