Father and son killed in Nice terror attack mourned by Texas community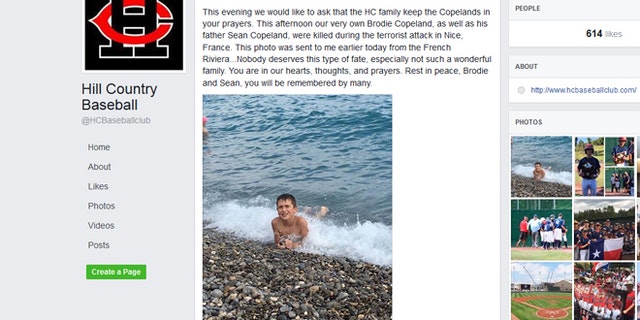 NEWYou can now listen to Fox News articles!
Hours before he was killed along with his father by a maniacal terrorist, Brodie Copeland's pals back home in Lakeway, Texas, got a photo of the 11-year-old boy, smiling from a pebble beach in Nice as Mediterranean waves crashed against him.
The photo was posted on the Facebook page of the Hill Country Baseball league, where Brodie was a pitcher for the Mustangs. Hours after the picture was taken, Brodie and his father, Sean Copeland, 51, a computer executive from the Austin suburb, would be among at least 84 people killed when the terrorist plowed a box truck into a crowd celebrating Bastille Day and watching a fireworks show along the picturesque coast.
"We are heartbroken and in shock over the loss of Brodie Copeland, an amazing son and brother who lit up our lives, and Sean Copeland, a wonderful husband and father," the family said through spokesperson Jess Davis. "They are so loved."
That love was evident in the youth baseball community back home. Under the picture of a carefree boy on summer vacation was a post mourning his loss and underscored by comments of friends, family and strangers.
"This evening we would like to ask that the [Hill Country] family keep the Copelands in your prayers," read the league statement. "This afternoon our very own Brodie Copeland, as well as his father Sean Copeland, were killed during the terrorist attack in Nice, France. This photo was sent to me earlier today from the French Riviera...Nobody deserves this type of fate, especially not such a wonderful family. You are in our hearts, thoughts, and prayers. Rest in peace, Brodie and Sean, you will be remembered by many."
Those who knew and played baseball with Brodie remembered the boy and his dad with tender grief.
"I'm in complete shock!" wrote Voctor Flores. "Some of the best people I've had the privilege to know. You will definitely be missed Sean and Brodie."
"No words can describe how we feel," an unidentified poster wrote. "Sean and Brodie touched our lives in so many ways. Such a good man and a great kid and teammate."
Davis told The Austin-American Statesman that the family was on a dream European vacation that began in Pampola, included a stop in Barcelona and wound up in Nice, where they were celebrating a relative's birthday. Brodie's cousin, Haley Copeland, posted on her Facebook page early Friday about her loved ones' tragic deaths.
"[Two] of those 80 people were American and those 2 people happen to be uncle Sean and 11 year old cousin Brodie," she wrote. It was not clear if she was on the trip.
Brodie was interested in more than baseball. His mother's Facebook page features numerous photos of him starring as Michael in a local production of Peter Pan.
"Tickets just went on sale for Peter Pan…Brodie is playing Michael," she wrote last December. "I know he would love to have friends and family in the audience :) The shows are in January…all the ticket info can be found here."