Fires scorch area near Southern California mass shooting, force evacuation of 30,000 residents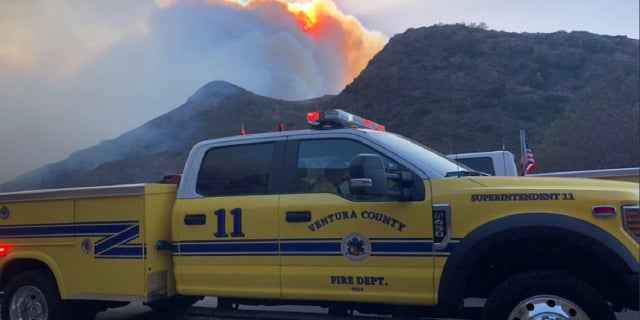 Two fires descended on Ventura County in Southern California late Thursday, forcing the evacuation of 30,000 people and threatening thousands of homes from the Newbury Park-Thousand Oak areas, officials said.
As flames moved into the Oak Park community of Thousand Oaks, the Ventura County Fire Department issued a mandatory evacuation order, the Ventura County Star reported.
"Many homes are being destroyed," Bill Nash, a Ventura County spokesman, told the newspaper. "The fire is raging. We're working hard to get ahead of it but we need people to be aware and not wait for that knock on the door."
"Many homes are being destroyed. The fire is raging. We're working hard to get ahead of it but we need people to be aware and not wait for that knock on the door." 
The fires were a sudden and emotionally taxing new emergency for a region that just the previous evening dealt with a shooting rampage that resulted in 13 deaths.
As the blazes spread, authorities had requested 10 additional fire strike teams to help preserve threatened structures, the Star's report said.
Mandatory evacuations also were issued for parts of Westlake Village, Agoura Hills and Calabasas, the paper reported. Previous evacuation orders remained in place for parts of Bell Canyon.
A second fire pushed to the edge of Camarillo Springs and Cal State Channel Islands, both of which have been evacuated, the Los Angeles Times reported. Mandatory evacuations have also been ordered for all areas of Vallecito Trailer Park and Dos Vientos, along with areas of South Coast outlined on a Ventura Fire Department map.
At least 400 personnel were working on the fire, which began in the Hill Canyon area that had dry brush ripe for fire, according to the Star.
"The first part of this fuel bed had not seen fire for many years. Drought-stricken fuels, Santa Ana wind conditions, low relative humidity, high temperatures. It's a recipe for fire," said Ventura County Fire Department Assistant Chief Chad Cook, the paper reported. He is also the incident commander for the Hill fire.
The blaze had scorched up to 7,000 acres by Thursday evening. Fire officials expect it will burn all the way to the ocean.
The Los Angeles County Sheriff's Department said residents of Calabasas, Hidden Hills and Agoura Hills should prepare for evacuations, according to Southern California News Group.
Strong gusts from the Santa Ana winds drove the fast-moving fires, the Star reported.
"Tonight is the peak of our wind event," Carol Smith, a meteorologist with the National Weather Service, said late Thursday, according to the paper.
The National Weather Service issued a red flag fire warning that will remain in effect through Friday night, according to the L.A. Times.
The Associated Press contributed to this report.