Farmer plows message for the NFL: 'We stand for the national anthem'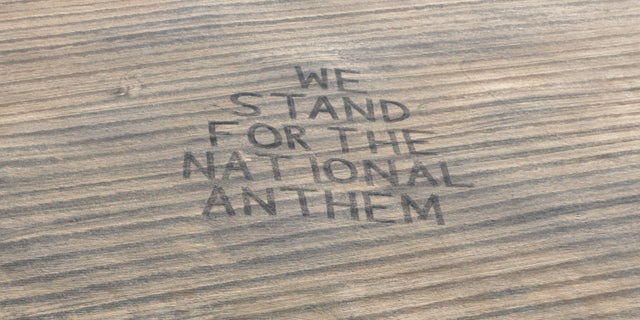 NEWYou can now listen to Fox News articles!
Farmer Gene Hanson of Edgeley, North Dakota has a message for the NFL: "We stand for the National Anthem."
The 77-year-old Midwesterner plowed that phrase into his bean crops - a massive message spanning the length of two football fields - in response to the controversial protest undertaken by some NFL players who've begun kneeling during the playing of "The Star-Spangled Banner."
"I go with [President] Trump on this one," Hanson told Fox News on Tuesday. "If you want to protest, that's not the place to do it."
He added: "A lot of people died over our flag. We're able to voice our opinion because of it. If you're going to show respect for anything, do it for the national anthem."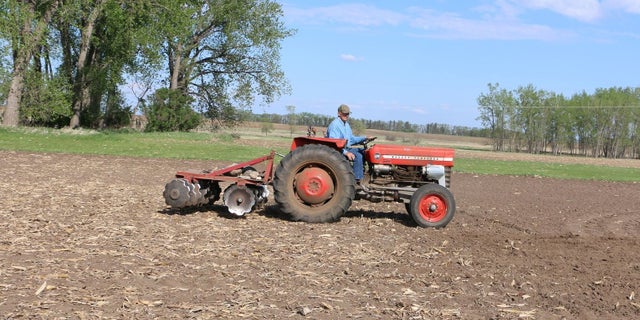 Hanson has a track record of designing and digging massive messages – many political – using his old Massey tractor on his 850-acre farm.
And Hanson doesn't use GPS or any technology for the work, which he says "works out pretty good in a harvested bean field."
Then he flies his two-seater plane, and if his design passes the test, he snaps a pic with a Cannon camera and posts it on Facebook. He said he's only been unsuccessful twice.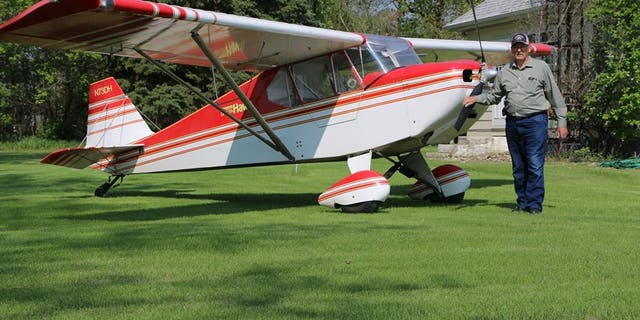 Hanson told Fox News he got his "We Stand for the National Anthem" message right on the second try. During the first attempt, he was interrupted by a passerby with only two letters to go. He soon relocated to another section of the field.
Hanson said he initially wanted to add an addendum -- "We kneel at the cross" -- but the plan was foiled by the first frost of the season.
Hanson said, weather permitting, he plans to add that phrase soon.
Hanson and his wife, Darlene, are Lutherans and attend church regularly. He also describes himself as a Republican and Trump supporter, and he had the chance to get a picture of the president when Trump came to North Dakota for a tax reform speech in September.
"I was 20 feet away from him," Hanson said. "It was a good meeting and the president stayed on script."
Hanson said he believes Trump is trying to do well, but faces a "continuous battle" in Washington, D.C. And Hanson said he's doing all he can to send his support from his Edgeley farm.
Some of his previous messages include "Drain the Swamp," "Blue Lives Matter," "Feel the Bern," "GOP, get your act together," and "Vote Trump."
He said his Prince symbol, plowed after the singer passed away, was one of his most popular for fans all over the world, but he caught a lot of flak for his "Never Hillary" message.
"Most responses have been positive, though," Hanson said.