Families of Florida teens missing at sea turn to fundraising to continue search
NEWYou can now listen to Fox News articles!
The families of two Florida teens who are missing at sea have turned to online fundraising to keep the search – and hope – alive.
In the wake of the Coast Guard suspending its search and rescue operations on Friday for Perry Cohen and Austin Stephanos, who have been missing since July 24, Pamela Telvi Cohen, Perry's mom, has created a gofundme account to pay for private aircraft, boat fuel and any additional resources needed to try to locate the boys.
The account had raised $415,498 of a $450,000 goal as of 11 a.m. Sunday morning. More than 4,500 people had contributed an average of $90 each since the account was created on July 27. The page had been shared on Facebook and Twitter 31,000 times.
"We would like to express our heartfelt gratitude to our families, friends, neighbors, colleagues, community along with strangers from around the world for your prayers and thoughts as well as all that have contributed to the Perry and Austin Rescue Fund to ensure the boys' safe return," an Aug. 1 update to the page said.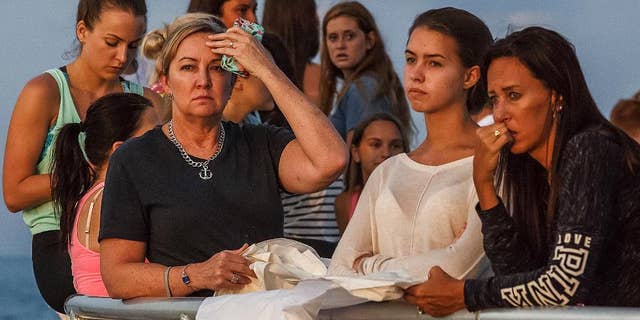 The families had already offered a $100,000 reward to anyone who could locate the two 14-year-old fishermen, who have yet to turn up despite a Coast Guard search that covered tens of thousands of square miles and employed a Navy destroyer. The teens' 19-foot boat was found capsized last Sunday. Cohen and Stephanos were last seen two days prior when they were purchasing gas for the boat. They then sailed out of a Jupiter inlet as bad weather approached and haven't been heard from since.
"Should there be any surplus funds at the conclusion of the search-and-rescue efforts, they will be directed to aid in similar activity that will benefit saving lives in related situations," a posting on the gofundme page said.