Fallen Texas cop's son gets special escort to school from 100 officers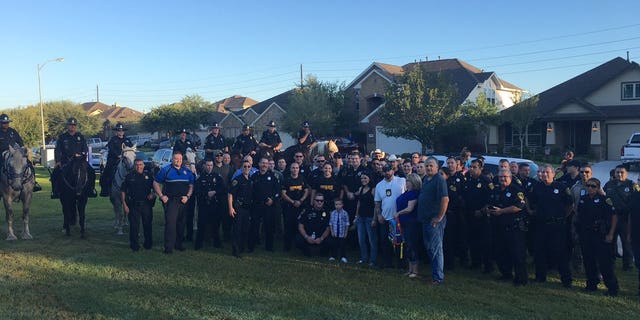 Kevin Will, Jr., made quite the entrance for his first day of kindergarten.
His father, Officer Kevin Will of the Houston Police Department's vehicular crimes division, was killed in an on-duty crash on May 29, 2011, and nearly 100 of his fellow officers in blue walked the boy down the street to his first day of school.
The officers, mostly from the Houston Police Department — 13 of them mounted on horseback — took the five-year-old boy on an almost one-mile trek to Wildwood Elementary School in Tomball, Texas.
Officers came from as far south as McAllen, as far north as Fort Worth, and as far west as Odessa.
Even a helicopter escort arrived overhead.
"I think he was way overwhelmed today," his mother, Alisha Will, told The Houston Chronicle. "But he was excited about kindergarten, and I talked to him about the officers being here because his daddy couldn't."
The boy was born three months after his father died.
Officer Will, who was 37 at the time of his death, had been with the department for only two years. He studied engineering at Texas Tech University and worked in finance before he became a policeman in 2009.
Alisha Will noted that although her son lost his dad, he gained a family from his father's fellow officers.
"He knows," she said, "that they'll always be there."