'Extremely dangerous' Hurricane Florence to be a 'Mike Tyson punch to Carolina coast'
NEWYou can now listen to Fox News articles!
Hurricane Florence's potentially devastating winds and rain could be like "a Mike Tyson punch" when the storm slams into the Carolina coast later this week.
The hurricane, which was downgraded to a Category 3 early Wednesday afterrnoon, remains strong as it continues its approach to the U.S. Mid-Atlantic region with maximum sustained winds of 125 mph, the National Hurricane Center said in its 2 p.m. advisory. Florence was 435 miles southeast of Wilmington, North Carolina, and moving northwest at 16 mph.
It's expected to go back up to a Category 4 by Thursday morning.
Steve Goldstein, FEMA's National Oceanic and Atmospheric Administration liaison, said Wednesday morning that the agency expected the storm to hit late Thursday or early Friday morning.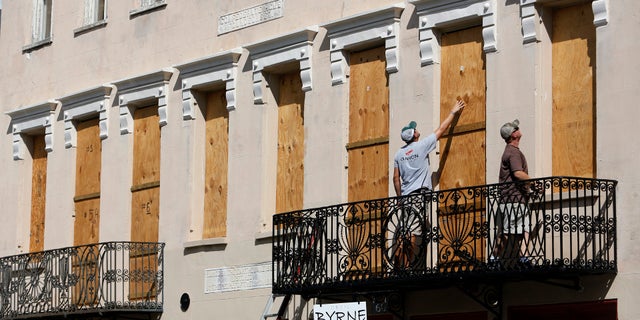 HURRICANE FLORENCE'S PATH: TRACK THE STORM HERE
Jeff Byard, associate administrator for the Office of Response and Recovery at the Federal Emergency Management Agency (FEMA), urged residents in the mandatory evacuation zones across the region to pack up and leave the area sooner rather than later.
"It's a very dangerous storm – heed the warnings and evacuate if you are in one of those zones. Today is the day," he said Wednesday morning. "This is going to be a Mike Tyson punch to the Carolina coast."
According to Fox News Senior Meteorologist Janice Dean, Florence could stall upon reaching the Carolina coast and make a slight shift south once it makes landfall, becoming a "major flooding event."
HURRICANE FLORENCE COULD BRING CATASTROPHIC STORM SURGES: WHAT ARE THEY, AND HOW CAN YOU PREPARE?
In addition to the hurricane-strength winds blowing ashore Friday, Florence has the potential to bring a storm surge upwards of 6 feet in parts of the coastline including up to 13 feet from Cape Fear north to Cape Lookout.
The hurricane could also produce heavy and excessive rainfall – up to 40 inches in isolated areas in the Carolinas and anywhere between 6 to 12 inches elsewhere in the Appalachians and Mid-Atlantic region.
It will also pass directly over two nuclear power plants -- the Brunswick Nuclear Plant, which is located 30 miles south of Wilmington, as well as the Shearon Harris Nuclear Plant in New Hill, about 23 miles from Raleigh.
Flooding well inland could wreck environmental havoc by washing over industrial waste sites and hog farms.
HURRICANE FLORENCE EMERGENCY CONTACTS TO NOTE AS 'EXTREMELY DANGEROUS' STORM HITS EAST COAST
On Wednesday morning, President Trump urged caution to residents refusing to evacuate coastal towns, saying Florence is "bigger than anticipated."
"Hurricane Florence is looking bigger than anticipated," Trump tweeted. "It will be arriving soon. FEMA, First Responders and Law Enforcement are supplied and ready. Be safe!"
He then released a video urging residents in affected areas to "get out of its way.
"Don't play games with it – it's a big one, may be as big as they've seen," Trump added.
Earlier this week Trump declared states of emergency for North and South Carolina and Virginia, opening the way for federal aid. All three states ordered mass evacuations along the coast. But getting out of harm's way has proved difficult.
PICTURES: PREPARATIONS FOR HURRICANE FLORENCE
Local resident Michelle Stober loaded up valuables on Tuesday at her home on Wrightsville Beach to drive back to her primary residence in Cary, N.C. Finding fuel for the journey was tough.
"This morning I drove around for an hour looking for gas in Cary. Everyone was sold out," she said.
People across the region rushed to buy bottled water and other supplies, board up their homes, pull their boats out of the water and get out of town.
Long lines formed at service stations, and some started running out of gas as far west as Raleigh, with bright yellow bags, signs or rags placed over the pumps to show they were out of order. Some store shelves were picked clean.
"There's no water. There's no juices. There's no canned goods," Kristin Harrington said as she shopped at a Walmart in Wilmington.
AS HURRICANE FLORENCE BARRELS TOWARD US, 'WORST CASE SCENARIO' SIMULATION OF CATEGORY 4 STORM SHOWS CATASTROPHIC DEVASTATION
Despite all that, 65-year-old Liz Browning Fox plans to ride the storm out in the Outer Banks village of Buxton, N.C., despite a mandatory evacuation order. Her 88-year-old mother refused to evacuate and will stay with her.
"Everyone who is staying here is either a real old-timer, someone who doesn't know where would be better, or someone involved in emergency operations one way or another," said Fox.
The Associated Press contributed to this report.