EXCLUSIVE: Florida Man Fights for Return of Ailing Daughter Taken to Syria by Mom Without His Permission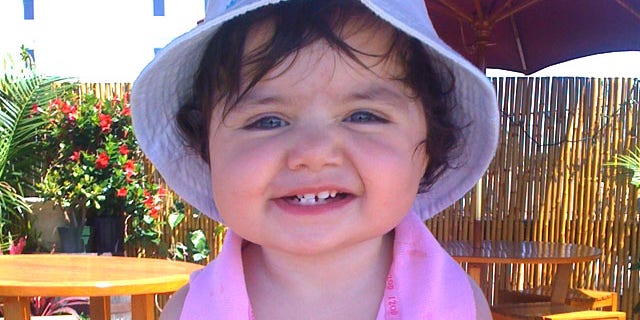 A Florida man is desperately fighting to get his ailing 2-year-old daughter back from Syria, where he says the girl was taken by her mother without his permission.
Fuat Kircaali, a 51-year-old U.S. citizen, has spent more than a year in a messy custody battle across U.S. states and three different countries in an effort to get his daughter, Sofia, whom Kircaali says requires critical medical care. But today he seems no closer to permanently reuniting with his daughter than he did last summer, when he left the girl with her mother for what he thought was a short stay in Istanbul, Turkey.
"Every day I spend without Sofia is one thing, but every day Sofia spends without proper treatment waiting for her is heartbreaking," Kircaali told FoxNews.com. "I cannot live with myself. It's a tragedy and nightmare."
Kircaali last had custody of his daughter in June 2010, when he took her to Istanbul to consult with his sister, an expert in child psychology and autism. Sofia had been diagnosed by U.S. doctors with a severe developmental condition called Global Development Delay (GDD) and possible autism.
While in Turkey, Sofia was visited by her mother, Racha, who had moved back to her native Syria after her U.S. tourist visa expired in March 2010. Kircaali said he and Racha agreed she would temporarily stay in Turkey with Sofia and make arrangements for a new visa and her return to the United States.
Kircaali flew back to the U.S., expecting to see his daughter and her mother less than two weeks later. But Racha never showed for her visa appointment at the U.S. Consulate in Istanbul.
"Sofia's mom convinced my sister to take her to Syria for a week. The next thing we heard from her mom was they would not be returning home to the U.S.," Kircaali told FoxNews.com.
Kircaali is particularly concerned about Sofia's lack of proper medical care.
"At two years of age, she does not speak a single word, does not understand very basic gestures children learn as early as 6 months old … but Racha insists 'the baby is fine,'" Kircaali said. He maintains that Sofia requires intensive therapy during the first three years of her life, but said Racha and her family are in "complete denial."
The State Department could not confirm Sofia's health status, but said it is assisting Kircaali in seeking her return to the United States.
One problem is that Syria is not a signatory to the Hague Convention on the Civil Aspects of International Child Abduction, a treaty that provides a legal framework for resolving international custody disputes. "Without this civil remedy, left-behind parents, like Mr. Kircaali, face many obstacles in seeking the return of an allegedly abducted child," a State Department official told FoxNews.com.
The Syrian development is just the latest complication in what has been a complex and at times very messy custody battle between Sofia's parents.
Kircaali and Racha met in Chicago in 2008, and quickly decided to start a family. Sofia was born in Florida in February 2009. But the parents' relationship had soured by February 2010, when Racha left their home in Lighthouse Point, Fla., with Sofia and moved back to Chicago, where the family had previously lived, and where her brother still lived.
Kircaali then went to court in Florida, which granted him a "pickup order" that was approved and executed in Illinois, where authorities took Sofia from her mother and gave her to Kircaali. "They were able to successfully get the physical custody of the child returned to the father," said Jeff Wasserman, Kircaali's attorney in Florida.
But Racha immediately challenged the decision and got her daughter back.
"Because of questionable jurisdiction issues that were raised, the judge in Florida vacated the order, basically saying that we'd probably have to get the order re-entered in Chicago," said Wasserman.
Still, less than a month after regaining custody of Sofia, and before any official custody ruling was issued, Racha returned to Syria, leaving Sofia with Kircaali in the U.S.
"I did not allow her to get a passport for Sofia so she didn't have any choice (but) to leave Sofia behind," Kircaali said.
Susan Brown, an attorney who represented Racha in Florida, insists Racha was the victim.
According to court documents, Racha believed she was married to Kircaali "after they underwent a religious ceremony in the Nation of Turkey attended by both families." She told the court she learned only after moving to the United States that Kircaali was still legally married to another woman, and was not yet divorced.
"He had a baby with a tourist who he wasn't married to," said Brown. "It wasn't like they were married and he had a happy family and she picked up and left."
Brown said Racha was devastated at the thought of losing her daughter. "The authorities in Illinois came to her house and literally yanked the baby from her, I mean just removed the baby from her physical custody. No notice, no nothing … That was one of the most emotional hearings I've ever been to in 26 years of doing this."
No one seems able to explain why Racha left the U.S. knowing Sofia couldn't go with her.
"Her visa was up, I can't say for sure that she couldn't extend it, I don't know what happened," Brown said. "…I'm guessing she had no choice."
Kircaali said he's visited Sofia twice in Syria since last July, but has made no progress in convincing the girl's mother to allow her return. A State Department official said the U.S. Embassy in Damascus also visited Sofia, in December 2010, and has made a follow-up request for a second visit.
Susan Bender, a lawyer with experience in international custody cases, said that regardless of the relationship between Kircaali and Racha, it was illegal for her to take Sofia to Syria without her father's permission.
"It is a federal crime to interfere with the other parent's access, visitation or relationship with the child … But the issue for this guy is she might never leave Syria," she told FoxNews.com.
Bender said it would have been more helpful if Kircaali had married Racha or had obtained a court order giving him formal visitation or custody rights for Sofia, but even without official custody he should be able to secure help from the FBI and other federal agencies.
"The child is an American citizen and she [Racha] has, in my judgment, committed a federal crime by abducting this child and interfering with this man's relationship with his child … Whether she's sick or not, this child is an American citizen, and what the mother's done is wrong."