EXCLUSIVE: FEMA teams told to 'sightsee' as Sandy victims suffered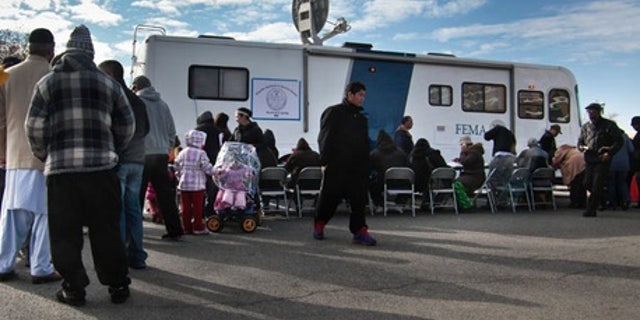 NEWYou can now listen to Fox News articles!
Hurry up and wait.
That's what first responders were left to do after being deployed by FEMA to assist in the storm-ravaged areas in the initial days after superstorm Sandy, FoxNews.com has learned. A FEMA worker who spoke to FoxNews.com described a chaotic scene at New Jersey's Fort Dix, where emergency workers arrived as the storm bore down on the Atlantic Coast. The worker said officials at the staging area were unprepared and told the incoming responders there was nothing for them to do for nearly four days.
"They told us to hurry, hurry, hurry," the worker, who works at the agency's headquarters in Washington and volunteered to deploy for the storm recovery effort. "We rushed to Fort Dix, only to find out that our liaison didn't even know we were coming."
"The regional coordinator even said to us, 'I don't know why you were rushed here because we don't need you,'" said the worker, who spoke out of frustration with the lack of planning and coordination following the devastating storm.
[pullquote]
After arriving in New Jersey, the worker and others waited for three full days and parts of another, even as reports dominated the television of the devastation and suffering wrought by the storm, which struck land on Oct. 29. When they asked for assignments, they couldn't believe the response, according to the worker.
"They told us to go to the Walmart nearby or to check out the area but told us to stay out of the areas affected by the storm," the worker said. "If our boss back at headquarters had not been alerted and didn't make a push to get us assignments, the people running the show on the ground level would have just kept us sitting in the barracks."
In a Nov. 3 email obtained by FoxNews.com, an administrator back in Washington urged the regional team to get his people into the field after learning they were idled.
SEND TIPS TO NEWSMANAGER@FOXNEWS.COM
"My people are being told to go sightseeing," the e-mail reads. "They may have a mission in 2-4 days .... I am asking them to reach out to contacts there that may be able to use their expertise ... We will continue to seek these opportunities as otherwise these personnel resources will be wasted ... Please advise way ahead ..."
Told of the worker's complaints, a FEMA official acknowledged that there were delays in getting responders out into the field but said the time was mostly spent firming up training and accommodations.
"I'm not going to say we couldn't have done better," Michael Byrne, a FEMA federal coordinating officer, told FoxNews.com. "I can understand the emotional commitment. They want to jump right in and start with the effort. I feel the same way.
"The time was used to find the best place for them and for quick-training," he said. "There were logistical challenges but we have been fully engaged in the areas since then."
But that didn't jibe with the account of the worker, who said the much-maligned agency seemed more organized during the aftermath of Hurricane Katrina.
"When there's disaster, every second counts," the worker said. "That clock starts ticking once the storm makes landfall.
"I worked in Katrina and Katrina was run better than Sandy."
Even after FEMA workers were finally sent out from Fort Dix, many did not have useful information to convey to victims, said the worker.
"They are put out in the field and they don't know what to tell people," the worker said. "Survivors will fall through the cracks."
Byrne, who noted there are still 800 FEMA workers in the field helping victims recover, said the responders he dealt with were generally well-prepared.
"If there were other people who weren't able to help, I'd like to know who they are," he said. "We can always do better, but they have done a great job on short notice."
The agency has come under fire from residents and elected leaders, including Rep. Jerrold Nadler (D-NY)—who represents some of the hardest hit areas in lower Manhattan and Brooklyn. He recently told the House Transportation and Infrastructure Committee that FEMA is not prepared to respond effectively to disasters, especially in urban areas.
"Hurricane Sandy should be a major wake-up call," Nadler said. "When disaster strikes, our densely populated urban areas and economic centers must be able to recover quickly."
FoxNews.com's Jessica Mulvihill contributed to this report.