Even from afar, McCain raises his voice against torture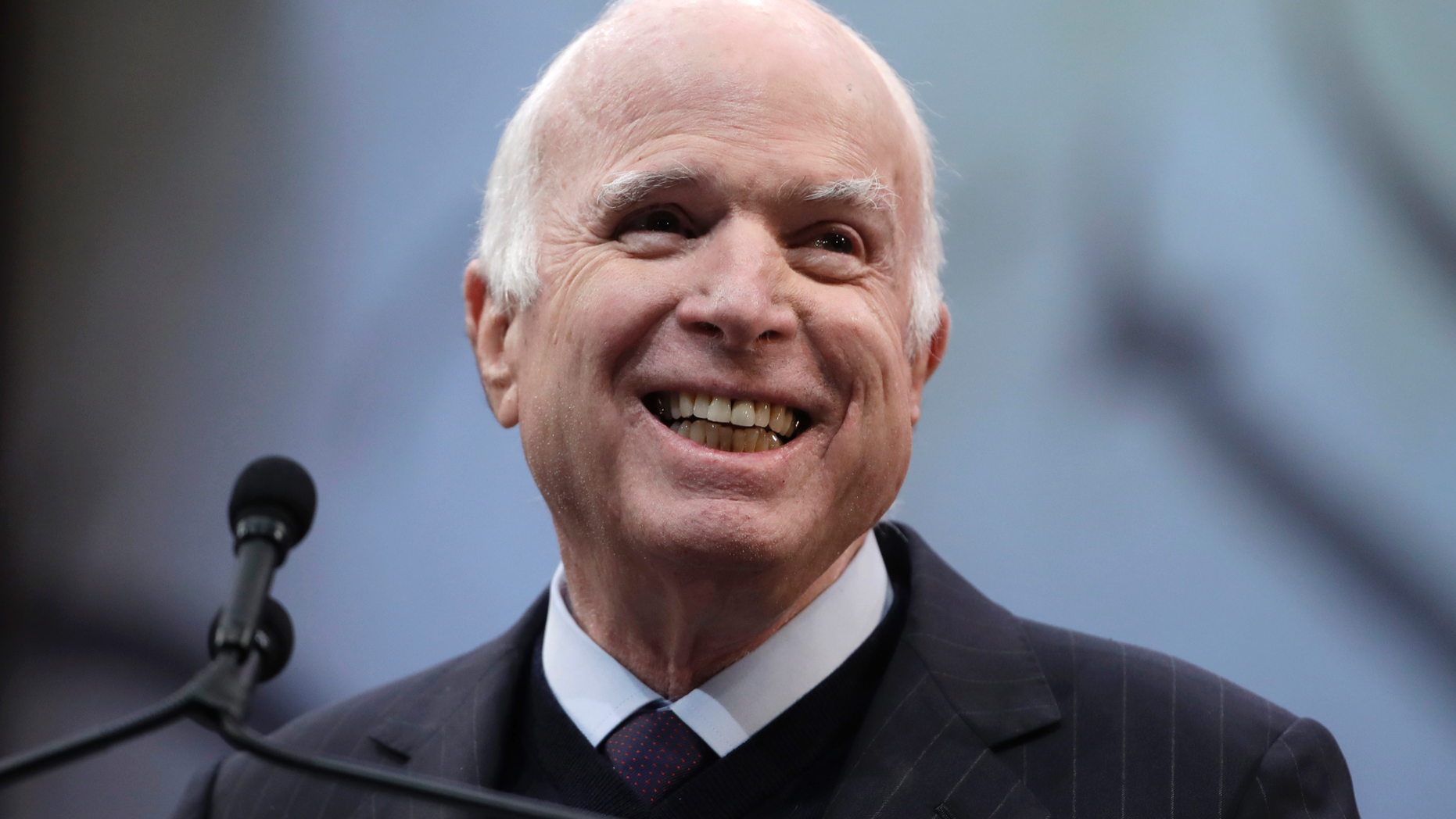 WASHINGTON – As Senate consideration of Gina Haspel to head the CIA quickly turned into a debate over torture, one voice weighed in from afar.
Republican Sen. John McCain, a Navy pilot who was beaten in captivity during the Vietnam War, was watching from home in Arizona where he is battling brain cancer. He urged the Senate to reject the nominee.
McCain is not expected to return to Washington for the vote, and he may not be able to sway his colleagues to stop her confirmation. Still, the senator who has defined his political career by going against the grain of party norms is doing it again in what may be his last battle in a decades-long fight against torture.
"I believe Gina Haspel is a patriot who loves our country and has devoted her professional life to its service and defense," he said in a statement late Wednesday night. "However, Ms. Haspel's role in overseeing the use of torture by Americans is disturbing. Her refusal to acknowledge torture's immorality is disqualifying."
He concluded, "The Senate should exercise its duty of advice and consent and reject this nomination."
McCain's statement sent a warning to President Donald Trump, who has suggested reviving torture techniques. But it has had limited impact in the Senate, where Haspel was gaining support.
Several senators announced Thursday they would vote in favor, including McCain's longtime ally Sen. Lindsey Graham, R-S.C., who has said he expects Haspel will be confirmed.
"Obviously, everyone has tremendous respect for John," said Sen. John Thune, R-S.D. "But I think most of our members are just kind of in a different place than he is, and Lindsey probably is most representative of that."
It's not the first time Graham and McCain have split on the torture issue. In 2005, they led efforts during the George W. Bush administration to stop enhanced interrogation techniques. But they parted ways a decade later when McCain teamed up with Sen. Dianne Feinstein, D-Calif., to pass a law to ensure no future president could tear up President Barack Obama's executive action banning torture.
Two days after taking office in 2009, Obama issued an executive order prohibiting all government employees from using any interrogation method that wasn't spelled out in the Army Field Manual, a military guide that banned brutal interrogation techniques, such as waterboarding, which simulates drowning.
For McCain, getting the anti-torture amendment passed in 2015 was personal. He was beaten and kept in solitary confinement as a prisoner of war in Vietnam in the 1960s.
Graham, who missed much of the Senate action this week to spend time with his friend at the McCain family home, said in an interview that it's thanks to the Arizona senator's work that Haspel will be required to follow the law, as she said she would do.
"Sen. McCain's view of what the country's doing won the day," Graham told AP. "The reason we are where we are is from Sen. McCain's voice."
Haspel, the CIA's acting director and a career intelligence officer, faced grilling at the Senate Intelligence Committee about her role overseeing some CIA operations in the aftermath of the Sept. 11, 2001, attacks. Some senators asked about her morals. Haspel told them she doesn't believe torture works.
Haspel also said she believes the U.S. should hold itself to the moral standards outlined in the manual.
The panel is expected to send the nomination on to the full Senate in coming weeks where confirmation will be tight.
The GOP's narrow 51-49 majority in the Senate has been further slimmed with McCain's absence. The 81-year-old senator was diagnosed in July with glioblastoma, an aggressive brain cancer. McCain left Washington in December and hasn't yet been able to return.
But at least one Democrat, Sen. Joe Manchin of West Virginia, announced he would vote in her favor. Vice President Mike Pence can be relied on to break a tie.
Feinstein said Thursday that she will oppose the nominee, calling the interrogation program part of "one of the darkest chapters in our nation's history and it must not be repeated."
She warned that confirming Haspel would send a message to allies that the U.S. approves of what happened after 9/11.
Other Democrats are weighing their votes. "I have enormous respect for Sen. McCain, obviously, his life and his experiences, but I think all of us have to make our own independent judgment," said Sen. Mark Warner of Virginia, the top Democrat on the Intelligence Committee. "That's what I intend to do."
There might not be a repeat of that dramatic moment last summer when McCain returned to Washington to cast the deciding "no" vote that shelved the GOP's plan to undo the Affordable Care Act, or "Obamacare."
At the Senate Republican lunch Thursday there was widespread support for Haspel. McCain's rejection of the nominee was not mentioned.
McCain, though, said he remained unsatisfied with Haspel's responses. "As I have argued many times, the methods we employ to keep our nation safe must be as right and just as the values we aspire to live up to and promote in the world," he said.
__
Follow Mascaro at https://twitter.com/lisamascaro