If Turkish President Tayyip Erdogan's bodyguards in fact started that beatdown of peaceful protesters outside the Turkish Embassy in Washington, D.C., on Tuesday, it apparently wouldn't be the first time.
Or the second, third, fourth … the precise number is tough to nail down.
While much of the Erdogan-controlled Turkish media on Wednesday accused the embassy protesters who were beaten as "supporters of terrorism" – a common label slapped on a wide range of anti-Erdogan political opponents – the incident brought back for others memories of similar incidents in years past.
In February 2016, during Erdogan's visit to Ecuador, his bodyguards were blamed for applying similarly brutal tactics to suppress protesters, even allegedly breaking the nose of Ecuadorean lawmaker Diego Vintimilla.
Ecuador's then-President Rafael Correa called the incident "a chain of mistakes," and fingered the Turkish bodyguards for starting the violence. "To be frank, you cannot do this in a foreign country," he was quoted as saying.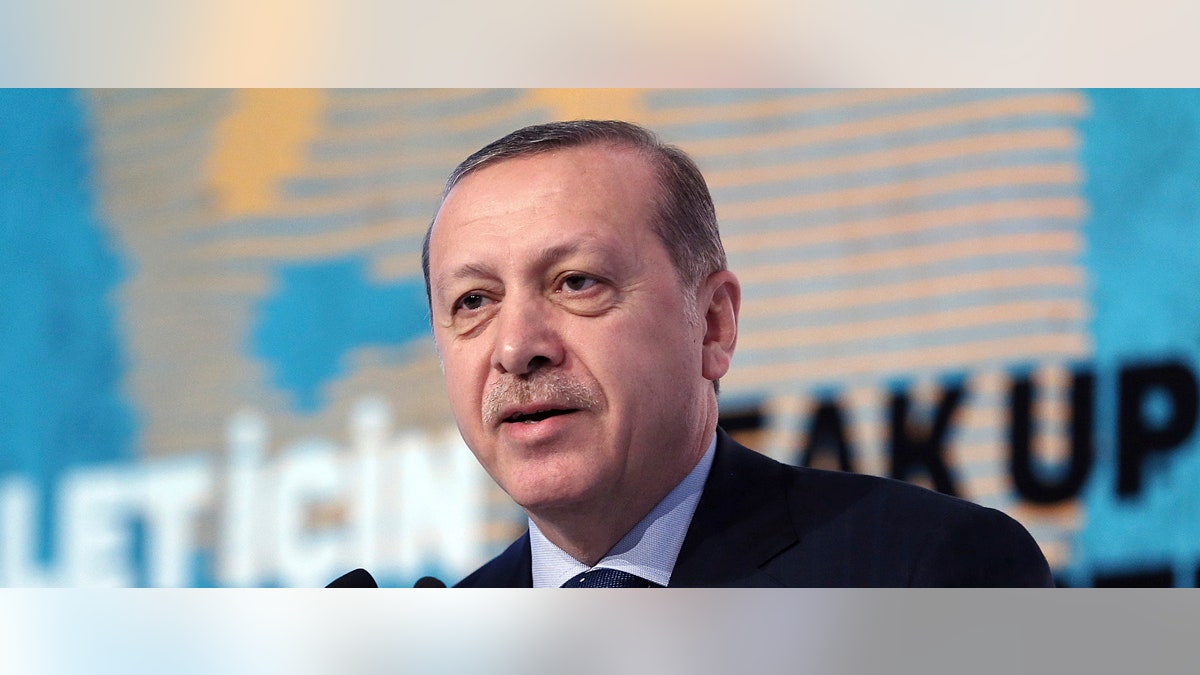 The protests were sparked by a group of women who started screaming "murderer" and "get out of Ecuador" during an Erdogan speech. He took note of the protest, and reportedly said, "Appropriate responses will always be taken to handle these disrespectful people," as his security men punched some women in the head, and dragged them away.
But it's hardly just the president's guards who have gotten in on the action.
Three years ago, during a visit to a mining disaster in Soma, Turkey, Erdogan adviser Yusuf Yerkel became an unintended international viral celebrity when he was photographed viciously kicking at a protester -- who was being held down on the ground at the time by Turkish special forces.
The bad PR generated by the photo only worsened when it turned out Yerkel then filed a medical report allowing him to miss seven days of work due to injuries sustained to his leg by the kicking. Of course.
He never faced any procedural or legal sanction for the assault. And the miner? Turkish media said he was dismissed from his job – without compensation.
Perhaps not to be outdone by one of his spry young staffers, the news emerged a bit later that Erdogan, then Turkey's prime minister, had himself taken a smack at a protester in a Soma supermarket.
And where were those bodyguards during all this? Not surprisingly, video shows them dragging the man after Erdogan smacked him, taking him into a corner of the market … and beating him up.
Only a month later, Erdogan's guards were in action once again. This time it was in the city of Silivri, where Caner Oruc, a math teacher, reportedly shouted at Erdogan's bus as it drove through the streets. According to Turkish press reports, Erdogan pointed out Oruc to his seven-member security team, who promptly hauled him into a nearby building, and beat him badly enough to break his nose.
Among those in the security detail accused of the Oruc beating: Erdogan's own nephew.