6.5 magnitude earthquake hits Nevada near Area 51; quake felt from Utah to California
A magnitude 6.5 earthquake struck in remote western Nevada early Friday, according to the U.S. Geological Service, shaking people from Utah to California — and some pointing out it happened near Area 51.
The temblor was reported at 4:03 a.m. about 35 miles outside Tonopah, just east of the Sierra Nevada range. First recorded as a 6.4 earthquake, the USGS later upgraded it to a 6.5 magnitude.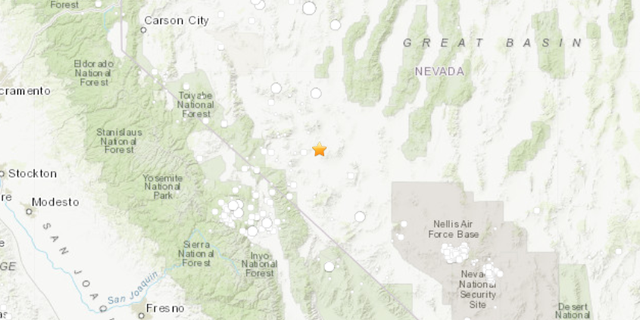 The initial quake struck about 4.7 miles deep, the USGS said, and at least six sizable aftershocks were recorded shortly thereafter, including two with estimated magnitudes of 5.4. The USGS has advised that Nevada will continue to experience more earthquakes than usual as aftershocks continue throughout the day.
Initial reactions to the earthquake were largely humorous. Most people in the area were still asleep, meaning the earthquake woke them up.
5 OF THE MOST DEVASTATING EARTHQUAKES IN US HISTORY
MAJOR SOUTHERN CALIFORNIA FAULT LINE EYED AFTER STUDY SHOWS UNPRECEDENTED MOVEMENT
A good number of reactions, though, noted the earthquake originated around the infamous Area 51, spurring a number of jokes that the earthquake was caused by aliens. In a year that has already included a pandemic, the threat of murder hornets and heightened hurricane activity, an Area 51 earthquake seemed to be fitting.
CLICK HERE FOR THE FOX NEWS APP
The USGS will continue to monitor the aftershocks.
The Associated Press contributed to this article.