Dutch pol who spoke at Muhammad cartoon contest warns of more attacks on US soil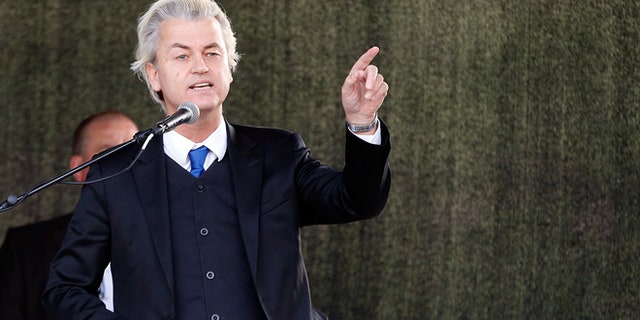 NEWYou can now listen to Fox News articles!
America can expect more terror attacks on U.S. soil, because radical Islamists "want to kill or subjugate us all," warned the Dutch lawmaker who served as the keynote speaker at the Texas event that suspected terrorists tried to ambush Sunday as it showcased cartoons of the Muslim Prophet Muhammad.
In an interview with FoxNews.com, Geert Wilders, the firebrand leader of the Party for Freedom in the Netherlands said radical Islam – as an ideology – was relentless in its quest for domination, and so he was not surprised by Sunday's attack at "Draw the Prophet Muhammad" contest in Garland, Texas.
"I always said that what has happened in Europe will also happen in America if you don't stop Islam," said Wilders, who had delivered his address and left the building before the attack took place.
"I fear you haven't seen anything yet."
"I fear you haven't seen anything yet," he told FoxNews.com as he was boarding a plane Monday to return to the Netherlands.
It's not clear whether Wilders was an intended target of the attack, which was cut short when a Texas traffic cop shot and killed the two gunmen before SWAT police teams moved in. The attackers were roommates who had driven 1,100 miles from their home in Phoenix, possibly spurred on by overseas handlers associated with ISIS, according to sources.
Wilders is on the same Al Qaeda hit list that included Stéphane Charbonnier, the editor of Charlie Hebdo who was gunned down alongside 11 others after two French-born Islamic terrorists stormed the offices of the French satirical magazine in January in apparent retaliation for its Prophet Muhammad depictions.
During his 20-minute address Sunday, Wilders made clear he did not believe depictions of Muhammad were to be suppressed in order to avoid what critics describe as unnecessarily provocative acts given that many Muslims are offended by them.
"Cartoons do not kill jihadis, but jihadis kill cartoonists," he told the audience at the event, hosted by the New York-based American Freedom Defense Initiative (AFDI) to award $10,000 for the best cartoon depicting the Prophet Muhammad.
In his interview with FoxNews.com, Wilders did not blame the terror attack on two Democratic congressmen who, in the days before he entered the U.S., created headlines about his visit by calling on the State Department to deny him a visa based on his harsh criticism of Islam and of Muslim immigration.
"Islam [simply] wants to kill or subjugate us," he said, brushing aside any notion that the move by Reps. Keith Ellison, of Minnesota, and Andre Carson, of Indiana, who are both Muslim, could in any way have spurred the terrorists.
Wilders said the attack will not stop him from speaking out against what he considers a grave threat to Western civilization.
"Never give in to terrorism," he said. "I want to live, but would rather die than give in to totalitarianism."
In the speech he delivered, Wilders praised Ronald Reagan as America's "greatest-ever president," but criticized President Obama, who he said, like Dutch, European and other U.S. leaders, is "weak" in the face of Islamic extremism.
"In his address to the United Nations in 2012, President Obama said, 'The future must not belong to those who slander the Prophet of Islam,'" Wilders told the audience. "But we say, 'The future must not belong to Islam!' Do you hear Mr. Obama? We said, 'No to Islam!'"
Wilders, whose party is the fourth-largest in the Dutch parliament, said he is scheduled to return to the U.S. next week to give another speech and to "do some interviews."
Wilders praised the actions of the U.S. authorities in Garland, telling FoxNews.com they were "real heroes." He also said as much in a tweet he sent out after the attack – which showed him with SWAT team members in a picture taken before it took place.
Wilders has had 24-hour armed protection since Dutch filmmaker Theo van Gogh, known for making anti-Islam remarks, was stabbed to death by an Islamic radical in 2004.
In an interview with Fox News Channel, AFDI President Pamela Geller spoke of the significance of what occurred in Garland by referring to both the Charlie Hebdo attack and an attack by a radicalized gunman the following month on a free-speech forum in Copenhagen, Denmark, that was featuring the work of Swedish cartoonist Lars Vilks, which has included cartoons of the Prophet Muhammad.
"We entered a new era…because this wasn't Paris, this wasn't Copenhagen, this was Texas," she said.
In attacking the Copenhagen forum, the gunman killed a filmmaker. He also killed a guard outside a synagogue. Five additional people were killed in related attacks in the Paris region on the day of the Charlie Hebdo attack.
You can follow Steven Edwards @stevenmedwards and email him at stevenedwardsnyc@gmail.com