'Duck boat' safety again called into question after Missouri tragedy
A tourist boat tragedy on a Missouri lake Thursday night has brought renewed attention to the problem-plagued history of so-called "duck boats."
At least 13 people, including children, drowned Thursday when a "Ride the Ducks" boat carrying 31 passengers capsized on Table Rock Lake, less than 10 miles from the popular tourist destination of Branson, FOX 5 of the Ozarks reported.
At least four people were believed to be missing, and at least seven were hospitalized, according to reports.
"Duck boats" are so named for their viability in the water or on land. The vessels were first used during World War II – perhaps most famously during the Allies' D-Day invasion of Normandy in 1944.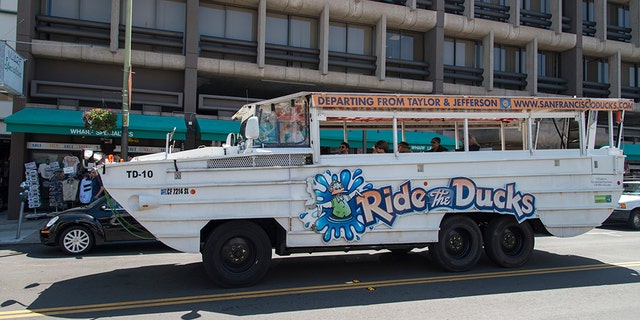 Since then, they have been modified as sightseeing vehicles by tourism companies. But popularity has waned in recent years, after a string of accidents left the industry reeling.
Since 1999, 37 people have been killed in duck boat accidents, including the Missouri tragedy. Thirteen were killed on Lake Hamilton in Arkansas in 1999 when it took on water and sank.
In 2015, one company pulled half of its fleet out of service after five college students in Seattle were killed in a duck boat collision with a bus. In Philadelphia, a duck boat operator suspended its tours indefinitely after three people were killed in two separate crashes.
In late 2016, Massachusetts approved a measure requiring a second employee – someone besides the driver – to narrate tours, after a Boston Duck Tours driver hit and killed a woman, Insurance Journal reported.
Ten weeks after the woman was killed, a woman from New Jersey was critically injured by a duck boat at another Boston intersection.
Safety advocates have insisted for years on the adoption of new safety measures.
Critics say the vehicles are dangerous because their design creates numerous blind spots for drivers, who sit 10 to 12 feet behind the bow, making it difficult to see directly below and in front of them.
Others say too many agencies regulate duck boats, including the U.S. Coast Guard, the National Highway Traffic Safety Administration, and cities and states with varying safety requirements.
Suzanne Smagala with Ripley Entertainment, which owns Ride the Ducks in Branson, said Thursday's accident was the tour's first in more than 40 years of operation.
But the fatalities are likely to renew calls for reform.
Authorities told the media late Thursday that rescue operations had been halted for the evening. The National Transportation Safety Board said on Twitter that investigators would arrive on the scene Friday morning.
The Associated Press contributed to this report.