Dozens of rabbits dropped off at Long Island train station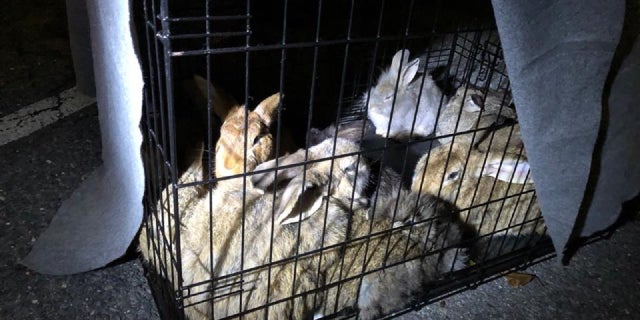 Do you know who dumped dozens of domesticated rabbits?
Over Memorial Day weekend, 28 of the critters were rescued around a train station in Ronkonkoma, Long Island.
"[We] have been sending agents back to look for more rabbits," Suffolk County Society for the Prevention of Cruelty to Animals (SPCA) Chief Roy Gross told Fox News.
On Sunday night, 25 bunnies were rescued "with a number of different rescue groups" assisting, Gross said.
He explained that three were rescued Monday.
There's also a $3,500 reward for information that leads to "the arrest and conviction" for who left the animals, according to Gross.
FARMER PLEADS NOT GUILTY TO ANIMAL CRUELTY IN PIG DEATHS
One rabbit didn't make it.
Gross said that it "died from previous injuries probably from neglect," adding that the animal had an "old wound" that had been "festering for a while."
He also revealed details about the surviving rabbits' conditions.
"Some of them that were recovered were encrusted in their own feces," Gross said. He explained that "we believe they were crated somewhere" and being neglected but seemed to be alright.
The domesticated rabbits "would not know how (to) defend for themselves" and are currently being looked at by veterinarians, Gross said.
"We are following up on leads," he stated, adding that tips can be submitted by calling the Suffolk County SPCA at 631-382-7722.