California family has emotional reunion with dog 101 days after being separated in Camp Fire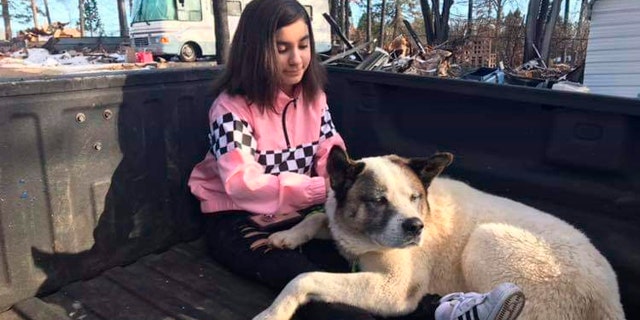 A dog who jumped out of a truck as his family fled from the devastating Camp Fire in Northern California was reportedly reunited with his owners Monday, 101 days after running for his life.
Kingston, a 12-year-old Akita, was with his family during the frantic evacuation of the town of Paradise in November as the blaze exploded in size. During the evacuation, the frightened animal jumped and took off running. The conditions meant it was far too dangerous for his family to go looking for him.
"Every night I would ask my dad and tell him that we needed to go look for him," Maleah Ballejos told KXTV.
CALIFORNIA UTILITY SEEKS BANKRUPTCY PROTECTION FOLLOWING WILDFIRES AS CEO RESIGNS
Gabriel Ballejos, Kingston's owner, said the family never lost hope and kept posting flyers and contacting shelters for months.
On Sunday, the family received the news their dog had been found by an animal rescue group.
"I called the family and they were ecstatic," Hannah Braden, of the rescue group Friends of Camp Fire Cats, told KTVU. Braden said the dog showed up on a surveillance camera about a month and a half ago.
CAMP FIRE CLEAN-UP CREW MEMBERS WHO POSTED OFFENSIVE PHOTOS FROM BURN ZONE ARE FIRED; CRIMINAL PROBE LAUNCHED
The dog smelled of skunk, which Braden told KTVU the pooch probably hunted to survive, along with eating the food she and other volunteers have been putting out as part of their efforts to locate pets that got lost during the fire.
"Even for us volunteers it was really emotional," she told the television station, "For this family that lost everything."
CLICK HERE FOR THE FOX NEWS APP
The town of Paradise was leveled by a Nov. 8 blaze that killed 85 people and destroyed nearly 15,000 homes in the area.
Braden and her volunteers have located more than 200 cats found after the devastating Camp Fire, but said that many won't receive the same happy reunion that Kingston got.
"I would say about 30 percent of animals we bring in get reunited," Braden said.
The Associated Press contributed to this report.