University of Michigan tackles anti-Semitism after three incidents on campus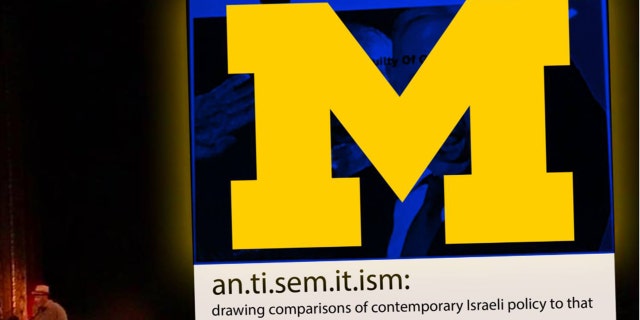 NEWYou can now listen to Fox News articles!
The University of Michigan has been accused of having an anti-Semitism problem after at least three separate incidents involving Jewish students on campus.
Last week, during a mandatory lecture for art students, Emory Douglas, who was the Minister of Culture for the Black Panther Party decades ago, showed an image of Adolf Hitler next to Benjamin Netanyahu, the Israeli prime minister, with the words "Guilty of Genocide!" across his face.
At the time, the university defended the guest lecturer, who featured the image alongside other depictions supporting BDS and showing pro-Palestinian propaganda.
Alexa Smith, a senior at the public school who exposed the incident on Facebook, wrote: "In what world is it ok for a mandatory course to host a speaker who compares Adolf Hitler to the Prime Minister of Israel?
"As a Jew who is proud of my people and my homeland, I sat through this lecture feeling targeted and smeared to be as evil as the man who perpetrated the Holocaust and systematically murdered six million Jews."
The lecture was sandwiched in between two incidents where instructors rejected letters of recommendation for students wanting to study in Israel.
Earlier this month, it emerged that anti-Israel professor John Cheney-Lippold, who was recently tenured, refused to write a letter of recommendation for student Abigail Ingber, because she was wanted to study in Tel Aviv, citing his support for BDS [Boycott, Divestment, Sanctions movement].
Cheney-Lippold rejected the notion his actions were anti-Semitic, but the university disciplined the digital studies professor and called it "inappropriate" behavior.
Ingber's father wants the university to fire him, calling the move "manipulative" given that Cheney-Lippold agreed to write the letter, received tenure, and then rejected his daughter's letter after he was essentially immune to punishment. Cheney-Lippold was subsequently told he won't get a merit increase for the next academic year and cannot go on his planned sabbatical in January or another one over the next two years as punishment.
On Tuesday, it was revealed that a second student, Jake Secker, had his letter of recommendation rejected by his graduate student instructor, Lucy Peterson, in what appeared to be a carbon copy of the Cheney-Lippold message.
Smith and Secker met with university officials who apologized to them and said they are "cautiously optimistic" about the outcome.
ANTI-ISRAEL PROFESSOR DISCIPLINED BY UNIVERSITY OF MICHIGAN FOR LETTER CONTROVERSY
"At this university, there is still no policy dictating what is considered anti-Semitism," Smith wrote in a Facebook post. "Today, myself and several fellow Jewish students met with Gunalan Nadarajan, the Dean of Stamps, and Dr. Robert Sellers, the university's chief diversity officer, to demand that the University of Michigan adopt the International Holocaust Remembrance Alliance (IHRA) Working Definition of Anti-Semitism."
UM President Mark Schlissel and Provost and Executive Vice President for Academic Affairs Martin Philbert, addressed the growing controversy Tuesday.
In a joint letter, they wrote: "Recent events on our campus have raised important questions around issues of personal beliefs, our responsibilities as educators, and anti-Semitism.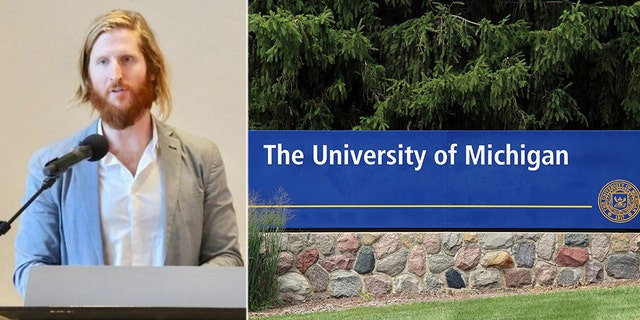 "We want everyone in our Jewish community and beyond to know that we are committed to upholding an equitable and inclusive environment where everyone is given a chance to succeed and pursue the academic opportunities they have earned."
The provost has also created a panel of faculty members to address the situation.
Last year, the University of Michigan ranked as the worst school for Jewish students on an annual list compiled by the Algemeiner, which covers Jewish and Israeli news.
MICHIGAN PROFESSOR SLAMMED AFTER REFUSING TO WRITE LETTER OF RECOMMENDATION FOR STUDENT APPLYING TO STUDY IN ISRAEL
The list referred to "a dozen anti-Semitic incidents on campus" including a swastika found at the school hours after the student government passed a divestment resolution targeting Israel. A freshman said many Jewish students were "afraid to walk around campus."
The Center for Middle Eastern and North African Studies also sponsored a lecture by former professor and BDS activist Steven Salaita who lost his job for anti-Semitic statements accusing "Zionists" of "transforming 'anti-Semitism' from something horrible into something honorable since 1948."
Schlissel responded to the ranking with a letter titled "University of Michigan welcomes Jewish students" in which he said: "Incidents of anti-Semitism do not represent the overall sentiment of the U-M campus."
U OF MICHIGAN PRESIDENT TRASH-TALKED TRUMP BEFORE, AFTER ELECTION, EMAILS REVEAL
David Brog, the executive director of Maccabee Task Force, which combats anti-Semitism and BDS on campus, told Fox News these are examples of "the new anti-Semitism" on campus.
"Michigan faculty have repeatedly singled out the Jewish state in a way that clearly crosses the line from legitimate criticism of Israel into the anti-Semitic demonization of Israel," Brog said. "And like all anti-Semitic attacks, they have left Jewish students feeling threatened and besieged."
Brog added: "What's even more disturbing is the fact that such anti-Semitic incidents are in no way limited to the University of Michigan — they are becoming increasingly common on campuses across the country."
Jonathan Greenblatt, the CEO of the Anti-Defamation League, welcomed the university's condemnation of the professor's actions and their new panel.
"The incidents are a reminder that anti-Israel and anti-Semitic attitudes and incidents remain a serious concern on campuses nationwide," Greenblatt told Fox News. "Fortunately, the University of Michigan has taken a series of steps and enacted new policies to show that it will not tolerate actions by faculty that limit students' academic freedom. And they have come out strongly against academic boycotts against Israel."