Doctors: Rep. Giffords ready to start full rehab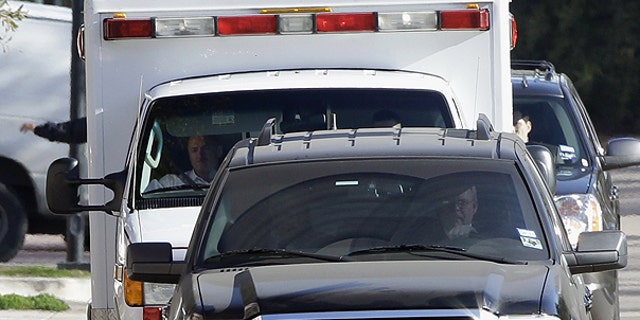 HOUSTON – With her progress moving at "lightning speed," Rep. Gabrielle Giffords has been moved from intensive care for the first time since she was shot in the head in Arizona more than two weeks ago.
Doctors had the Arizona lawmaker moved to TIRR Memorial Hermann hospital Wednesday in the latest big step in the long road to recovery. She immediately began therapy that could last several months.
Doctors said she will have a valve inserted into her breathing tube to help her talk.
When asked if the congresswoman was able to speak, neurosurgeon Dr. Dong Kim said, "we can say that her speech function, along with everything else, is improving" but declined to elaborate.
Giffords, 40, had been in intensive care since her arrival Friday from Tucson, where she was shot Jan. 8 while meeting with constituents. The gunman killed six people and injured 13 others in a rampage outside a supermarket.
Jared Loughner, the 22-year-old man accused in the shootings, has pleaded not guilty to federal charges of trying to assassinate Giffords and two of her aides. He also faces other federal murder charges.
On Wednesday, The Washington Post reported that Loughner researched lethal injections, solitary confinement and political assassinations in the days before the attack.
A source close to the investigation told newspaper that a review of his computers turned up the Internet searches.
Officials with the FBI and Justice Department contacted by The Associated Press declined to comment on the story or verify any part of it
Loughner's alleged actions could help prosecutors as they begin the process of pursuing charges that could lead to the federal death penalty.
Precise details on Giffords' recovery were scant out of respect for the family's wishes, doctors said, though Kim said Giffords was making progress at "lightning speed."
Doctors had said she would remain in the ICU until they were able to remove a tube that had been placed in her head to drain excess cerebrospinal fluid. A backup of the fluid can cause pressure and swelling within the brain.
Kim said the catheter was removed Monday after a scan showed there was no longer a dangerous buildup of fluid.
The three-term Democratic lawmaker's ability to swallow safely could mean she won't need a tube feeding her much longer, said Dr. Imoigele Aisiku, director of neurocritical care at Memorial Hermann.
Giffords began physical, occupational and speech therapy just hours after she was transferred, under heavy guard, in an ambulance from the ICU of a Texas Medical Center hospital to the rehab center.
"It's a busy afternoon already and I anticipate it will be more so in the coming days," Dr. Gerard Francisco, the head of her rehabilitation team, said at a news conference.
A breathing tube was placed in Giffords' neck after she was shot. Aisiku said while she can breathe independently and swallow safely, the tube cannot be immediately removed because of the length of time it has been in place.
Instead, doctors will lessen her dependence on it, a process that has already begun, until it can be safely removed.
Doctors had previously reported that Giffords was having difficulty moving the right side of her body. On Wednesday, they described that as "weakness" and said her ability to move had improved.
The transport from the intensive care unit earlier in the day was done under heavy police presence.
Helicopters buzzed overhead and police stopped traffic and blocked the road as an ambulance took Giffords and her husband, astronaut Mark Kelly, to the rehab facility. Television footage showed a gurney wheeled into the building.
It was the first time she had been outside intensive care since the shooting, said James Campbell, a TIRR spokesman.
Doctors said Giffords is doing her rehabilitation in her room and not in the hospital's large gym-like facilities where dozens of patients can undergo therapy simultaneously.
Giffords is interacting with the staff and her family and is awake "about as much as you or I are," Aisiku said.