Detroit dog found with metal hook 'literally in his skin,' dragging 15-lb tow chain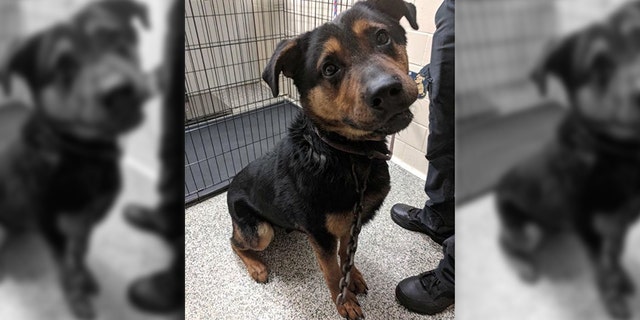 NEWYou can now listen to Fox News articles!
A dog rescue in Detroit is asking questions Wednesday after a young pup was found suffering — like "something you see out of a horror movie" — with a large carabiner hook "literally in his skin."
Courage, a 3-year-old German Shepherd-Rottweiler mix described as "the sweetest dog you will ever meet," was found Monday afternoon by city animal control with a carabiner — a hook used by mountain climbers — pierced underneath his chin toward the lower part of his neck, with a 15-pound tow chain attached.
WARNING: GRAPHIC IMAGES
"He was suffering in the cold, basically chained down with a metal piercing in his neck," Detroit Dog Rescue (DDR) executive director Kristina Rinaldi told The Detroit News.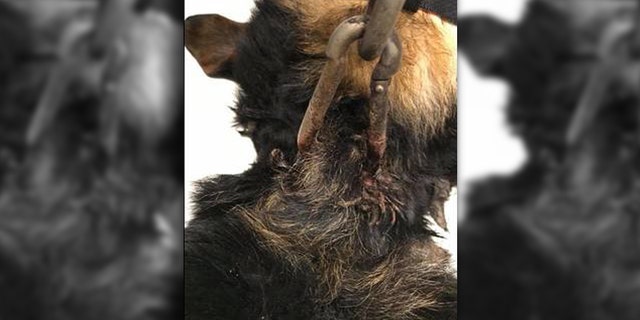 The pup, who suffered "the worst pain imaginable," was soon transferred from Detroit Animal Care and Control to the DDR, which helped him undergo three-hour emergency surgery at a nearby hospital to have the piercing object removed.
Authorities, according to Fox 2 Detroit, believe the hook was likely embedded in Courage's neck for weeks.
"This isn't something we normally see on the street — just carelessness for life," Rinaldi told The Detroit News. "It's horrific."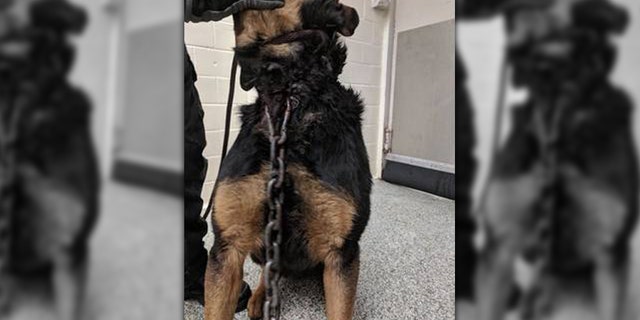 Courage was scheduled to undergo his second surgery Wednesday night "to repair a gaping would on the back of his neck." His wounds, Dr. Judi Fleischaker told the Detroit Free Press, were initially dirty and infected when he arrived to the animal hospital Monday, but are now looking "really good."
And while he's "in fantastic spirits," the "sweet boy" that tested positive for heartworms has a long road of recovery ahead of him.
As authorities have opened an investigation into the details of Courage's abuse, his rescuers are seeking a new family for Courage as he continues the healing process.
"I want to keep him in a home where he can have a soft bed, some treats and some extra attention," Rinaldi said.
DDR was initially seeking donations to cover Courage's $6,000 medical treatments – but the Bissell Pet Foundation offered to cover the treatment.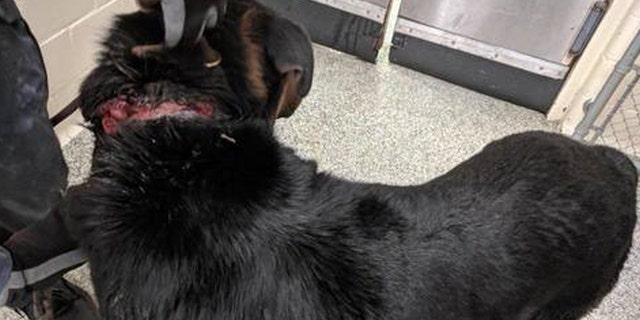 "Any donations previously received will be contributed to a legal fund to help find and prosecute whoever may have done this to our Courage," the rescue wrote on Facebook. "Any donations previously received will be contributed to a legal fund to help find and prosecute whoever may have done this to our Courage."