Dennis Rodman says Kim Jong Un 'probably' a madman, 'but I didn't see that'
Former NBA star Dennis Rodman thinks his pal Kim Jong Un -- the North Korean leader continuously threatening to blow up the United States with a nuclear weapon -- is just misunderstood.
Rodman says the Hermit Kingdom dictator is "probably" a madman. But he doesn't see the man who may be the most dangerous leader in the world in that light.
"When I went over there [to North Korea], the first thing he said to me was, 'Mr. Rodman, we just want to know, can we trust you?' I said, 'Absolutely.' And that's how our conversation started," Rodman told "The Late Show" host Stephen Colbert on Wednesday.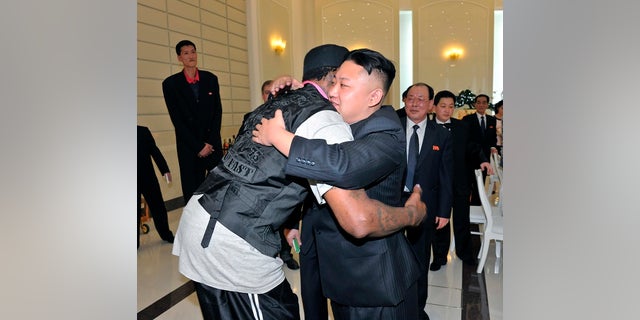 Colbert asked Rodman what he and his buddy spoke about and the NBA star said they mostly talked basketball. Rodman, who was known as a top defender as a member of Michael Jordan's Chicago Bulls teams, said Kim Jong Un played basketball when he was at school in Switzerland.
DENNIS RODMAN WANTS NORTH KOREA, GUAM BASKETBALL GAME FOR PEACE
Rodman told Colbert he doesn't judge others despite a plethora of reports about Kim's unethical antics.
"I don't see how people can sit there and say that this person is a 'madman.' He probably is, but I didn't see that. But he probably is."
"I don't really judge people, you know, by their color," Rodman said. "I don't judge where they come from. I just judge people where, you know, we're all human beings. You know, throughout the day, we're all human beings."
Rodman added: "It's funny, though, that I don't see how people can sit there and say that this person is a 'madman.' He probably is, but I didn't see that. But he probably is."
Colbert noted a report saying Kim murdered his uncle and fed the body to dogs. Rodman denied there was any truth to the report and said, in a video of the basketball game, you could see Kim's uncle, who was doing "just fine."
Colbert asked Rodman about North Korea's nuclear program and if he ever discussed it with Kim. Rodman said a few years ago Kim told him he did not want war.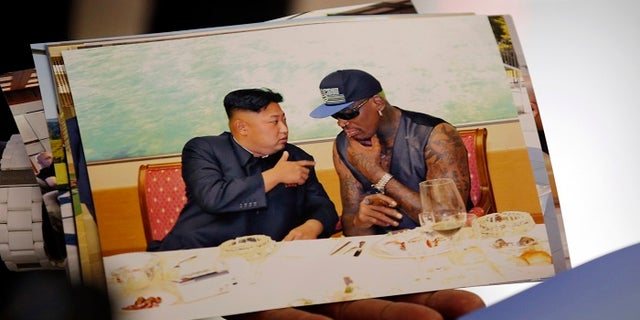 "He's more like a kid than anything," Rodman said.
Colbert fired back: "He's a kid, but he's a kid with nuclear weapons."
Rodman claimed to be close enough to Kim to discuss pretty much anything -- except politics.
"I don't want people to sit there and look at me and say, 'you betrayed America,'" Rodman said. "No, I didn't. I just went over there to try to solve things."
KIM JONG UN'S BIZZARE NORTH KOREA PROPAGANDA PHOTOS
Earlier this week, Rodman said he believed he could broker a peace deal between the U.S. and North Korea by having a basketball game featuring the Hermit Kingdom and Guam, a U.S. territory Kim Jong Un has vowed to sink.
Rodman said the basketball game would "give something historical for everyone to see" and show "there's not hatred at all" between the rogue regime and the U.S.
On Friday, U.S. Secretary of State Rex Tillerson met with the U.N. Security Council to discuss the situation in North Korea. Tillerson said the campaign of economic and diplomatic pressure on North Korea "must and will continue until denuclearization is achieved."
Meanwhile, Rodman introduced a Christmas sweater showing President Trump, Rodman and Kim together with the U.S. and DPRK flags. The word "UNITE" was below the three leaders -- along with flaming basketballs. Rodman said the sweaters were for sale with proceeds going to the Wounded Warrior Project.
Fox News' Katherine Lam and The Associated Press contributed to this report.