Deadly game of Russian roulette shatters peace of small Pennsylvania town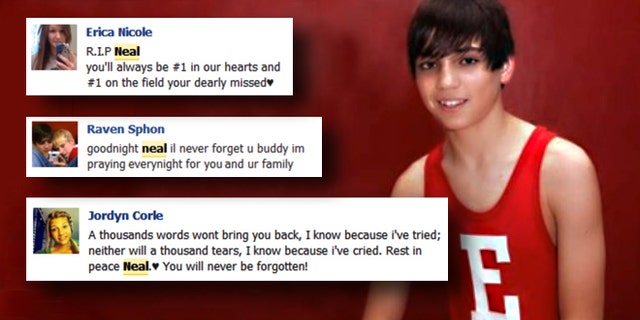 Scott Hammond doesn't blame the 15-year-old boy accused of killing his only son during a game of Russian roulette at a sleepover in a small Pennsylvania town earlier this month. Instead, he prays for him.
The rural community of Everett, population 2,000, has been devastated by the death of Neal Hammond, also 15, in an incident that forever damaged three families – Hammond's, the shooter's and that of the boy who brought the gun to the slumber party. But instead of bitterness and anger in a town where nearly everyone knows everyone, the awful tragedy has spurred an outpouring of compassion, starting with the dead boy's family.
"Cole has been in our hearts since this happened because he and my son were very, very close," Scott Hammond said of Cole McConoughey, who has been charged with aggravated assault and could face homicide charges in the death of his best friend. "I know it's been weighing on him heavily and we've been praying for him every day."
[pullquote]
The tragic shooting came at almost the same time a gunman opened fire in a Colorado movie theater, killing 12. But in the basement of the McConougheys' Riverview Road home, there was no demonic intent, only the naive bravado of three teenage boys fascinated by the .38 caliber Smith & Wesson one brought to the party.
The gun was left unloaded in a basement drawer, the third boy, who has not been named and who also faces charges, told police. As midnight drew near and they talked about things boys talk about, McConoughey allegedly took the gun and two bullets out of the drawer. He spun the revolver's cylinder, loading and unloading bullets -- "pointing the gun and joking around," police said.
"Let's play Russian roulette," the boy allegedly heard McConoughey say, according to court documents.
A moment later, McConoughey allegedly pointed the gun at Hammond's head. "He pulled the trigger thinking it was going to click," police said.
Neal Hammond was struck in the right temple and died the next morning, July 20, at 9:30 a.m.
Bedford County District Attorney Bill Higgins said there was no indication of any "altercation, animosity or ill will" between the boys.
"This is a tragic example of the consequences of the irresponsible handling of a firearm," Higgins said in a statement. "Sadly, this is a situation that could have easily been avoided by adhering to two basic firearm safety measures -- always assume a gun is loaded, and never point a firearm at a target you do not intend to shoot. My heart goes out to the family and loved ones of the young man who lost his life."
Investigators say another teen brought the revolver and bullets to the sleepover before McConoughey pointed the gun at Hammond's head and pulled the trigger. Higgins, who could not be reached for comment, said McConoughey has been charged with aggravated assault as an adult. But that charge will be upgraded to homicide, Higgins told the Altoona Mirror, and whether the boy will face a third-degree murder or a manslaughter charge will depend upon an ongoing investigation, he said.
Whatever the outcome, Scott Hammond, 41, who works with at-risk youth in Pennsylvania's Bureau of Juvenile Justice Services, hopes McConoughey doesn't serve time for his son's death.
"Cole's pain has been a burden on us since the day it happened," he said. "My wife and I have been praying for that poor boy. I don't want to see him face any jail time."
Hundreds of mourners flooded First Christian Church last Wednesday to honor Hammond, a popular wrestler and football player who would have entered his sophomore year at Everett Area High School next month. Rev. Robert Robertson said Hammond was remembered as a "laid back," altruistic teen who transformed into a tenacious "scrapper" once on a wrestling mat.
"He was a character, a good, likable kid," Robertson told FoxNews.com. "He had many friends."
Elsie Meloy, a secretary at the church, said a "feeling of hope" pervaded the service packed with Hammond's classmates and teammates.
"I've never seen that many people in the church for a funeral and I've been here for 30 years," Meloy told FoxNews.com. "Neal was just a kind young man who liked everyone he met."
Higgins has said charges are expected against other people, but declined to elaborate. An attorney for McConoughey, who was released after posting bail and is due to appear in court next month, reportedly wants the case moved to juvenile court -- as does Scott Hammond.
"I know that this kid could get help in a juvenile facility," Hammond said of McConoughey. "I don't think he'll get the help he needs in an adult facility."
For now, Hammond said he and his wife Georgina will rely on their faith to help them digest the "freak accident" that killed their son. And Hammond won't paint firearms as the villain in the killing either, as Neal "knew about guns" from his father's experience as a hunter.
"I don't really blame anybody, it was a freak accident," Hammond said. "I don't have any hard feelings toward either youth or anybody. It was just an accident."