Deadly blast in Southern California medical building investigated as intentional: report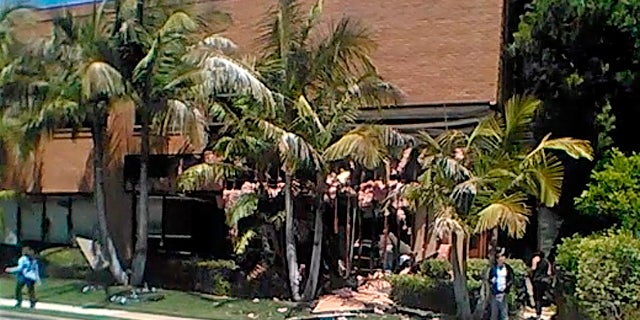 An explosion that rocked a Southern California medical office building on Tuesday, killing a woman and injuring three other people, is being investigated as intentional and investigators believe the blast may have come from a package, a U.S. official told The Associated Press.
The blast reportedly blew siding of the walls of a medical office building, exposing insulation and framing as well as damaging a first floor suite.
"There's heavy damage on the first floor corner of the building, walls and windows blown out," Capt. Tony Bommarito of the Orange County Fire Authority said, according to NBC News.
Officials reportedly said the person who died is a woman and was near to the source of the explosion, The Orange County Register reported. Two of the injured people had unknown injuries, and the third person suffered smoke-inhalation, according to officials.
Brian Fennessy, the Orange County Fire Authority chief, said 70 firefighters were dispatched in response to the call in Aliso Viejo at 1:09 p.m. local time. Aliso Viejo is about 50 miles southeast of Los Angeles.
Carrie Braun, an Orange County Sheriff's Department spokeswoman, said authorities were working to determine if the explosion was an accident or an intentional act, the newspaper reported.
"This is going to be a long process," Bommarito said. "We're going to take every precaution possible before we go in."
He said authorities believe the explosion came from inside the building, since the doors and windows on the bottom floor were "blown out," according to The Register.
Mary McWilliams told The Register that she arrived for an appointment to find smoke surrounding the area and car alarms going off.
McWilliams said she saw two burned women staggering out of the building, covered in ash and soot.
One woman, who had skin peeling on her arm from burns, said, "Take care of my mother," McWilliams said. The other woman was bleeding from her head.
"I thought it was a little fire until I saw everyone's faces and reactions," McWilliams said.
The Associated Press contributed to this report.