DB Cooper mystery: 'Potential' physical evidence uncovered in search
A crew of volunteer cold-case investigators in the Pacific Northwest, led by a former FBI agent, has uncovered what they believe to be "potential evidence" in the 46-year-old mystery of D.B. Cooper.
Thomas Colbert, a TV and film executive who helped put together the team with his partner and wife Dawna, confirmed to Fox News that his group had uncovered what "appears to be a decades-old parachute strap."
The D.B. Cooper case has fascinated and confounded professional and amateur sleuths since Nov. 24, 1971, when a man calling himself Dan Cooper hijacked a Northwest Orient Boeing 727 and demanded a $200,000 ransom. After receiving the money, "Cooper" jumped out the back of the plane wearing a business suit and a parachute.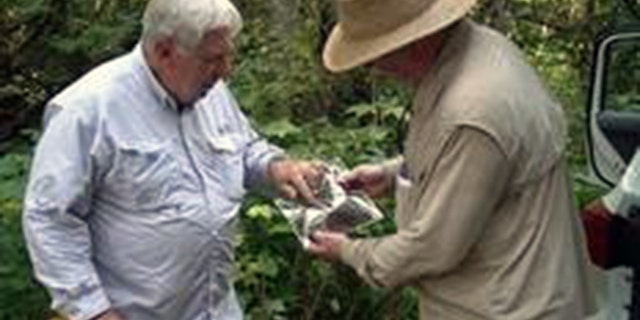 No trace of Cooper has ever been found, though some bundles of the ransom cash amounting to $5,800 were uncovered in 1980 on the banks of the Columbia River, which marks the border between Washington and Oregon.
Colbert declined to make the precise location of his crew's dig public, but claimed the potential strap was located "right where a credible source claimed the chute and remaining money are buried." Colbert added that he planned to pass the possible evidence to the FBI on Friday, while his team would offer the dig site to the Bureau on Monday.
In July 2016, the FBI announced that it was no longer actively investigating the case. Two months later, Colbert filed a federal lawsuit aimed at obtaining the FBI's entire file on the Cooper case. On Wednesday, Colbert said that archived FBI field reports helped corroborate information from a couple that led to the site of his team's most recent dig.
Colbert, who maintains a website, DBCooper.com, and has co-written a book about the case with veteran writer Tom Szollosi, believes they have identified Robert Rackstraw, a 73-year-old Army veteran with a prior criminal record, as "Dan Cooper." However, investigators questioned Rackstraw about the Cooper case in 1978 and eliminated him as a suspect the following year. Rackstraw himself has repeatedly denied any involvement in the caper.
The FBI could not immediately be reached for comment on Colbert's claims. However, Bill Baker, the Bureau's former assistant director of criminal investigations, has said the idea that Rackstraw is Dan Cooper needs another look.
"Look…this is more than a theory, and you have a [living suspect] that has all the attributes of someone to do this successfully," Baker said. "These are issues that have to be examined and weighed [by the FBI]."
Fox News' Perry Chiaramonte and Cristina Corbin contributed to this report.