Daughter of cop killed in line of duty gets prom surprise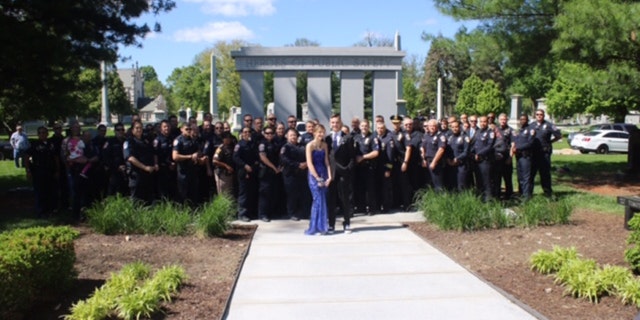 An Indianapolis teen got quite the surprise when for those quintessential prom photos with her family — she was taken to Crown Hill Cemetery.
The Indianapolis Metropolitan Police Department and Marion County Sheriff's Office teamed up to give Sierra, the daughter of fallen officer Rod Bradway, a send-off at his grave on her way to the Decatur Central High School prom, according to WKRN-TV.
According to The Indianapolis Star, his colleagues had remembered him as a man who "did everything for his kids."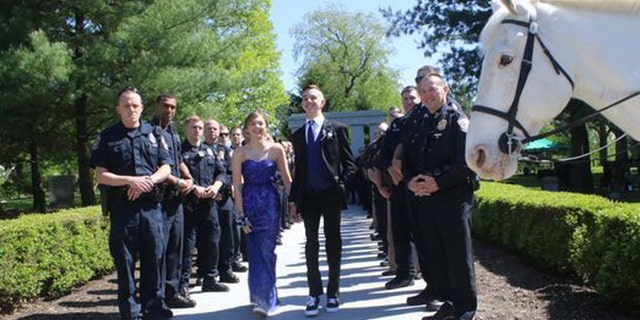 "He sure loves being a daddy," a former colleague told The Indianapolis Star in 2013.
Sierra's date is the son of a Marion County Sheriff's captain. His mother reached out to IMPD, asking for police officers to surprise Sierra at the cemetery, according to The Indianapolis Star.
The dozens of police officers and sheriff's deputies sent her off to her prom Saturday evening, wishing her a fun — and safe — night. And for her date, IMPD added a little reminder: "Have her home by 11 p.m.!"
Sierra's dad was killed in the line of duty on Sept. 20, 2013, while responding to a domestic violence disturbance on the city's northwest side.
Upon arrival, according to WKRN-TV, Bradway heard a woman screaming from inside her apartment. He was then ambushed after gaining entry into the apartment when convicted felon Steven Byrdo shot him six times.
Byrdo was then shot and killed by an assisting officer, according to WKRN-TV.