Daughter Calls Elizabeth Edwards a 'Lighthouse' in Eulogy at Funeral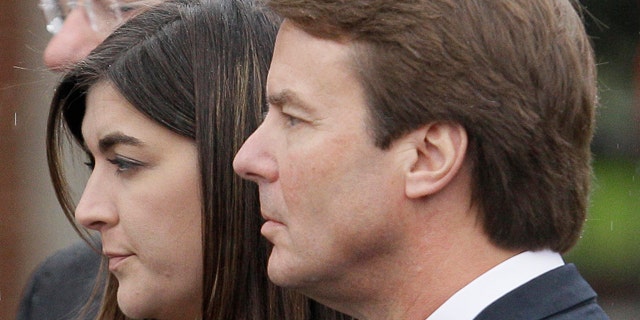 NEWYou can now listen to Fox News articles!
RALEIGH, North Carolina -- Hundreds of family and friends gathered Saturday to honor the life of Elizabeth Edwards, who has been praised for her strength amid a series of life tragedies that included the death of a son, a betrayal by her husband and a battle with cancer that eventually led to her death.
The funeral was held at Edenton Street United Methodist, a Raleigh church that Edwards turned to after her 16-year-old son Wade died in a car crash in 1996. She was buried later in the day alongside her son during a private ceremony.
Speakers recalled Edwards as a woman filled with energy, intellect and humor. They joked they had trouble coming up with what to say without the woman who used to leave notes of advice for those close to her.
"There aren't words that are good enough," said daughter Cate Edwards, whose eulogy contained a passage from a letter her mother spent years preparing to leave to her children after she was gone. "I've loved you in the best ways I've known how," the letter said. "All I ever really needed was you, your love, your presence, to make my life complete."
Former Democratic politician John Edwards, her estranged husband, did not speak. The couple had four children together, including 12-year-old Emma Claire and 10-year-old Jack.
Their oldest daughter, 28-year-old Cate, also talked of how her mother comforted those around her as she lay dying -- at one point barely able to speak as she held her daughter and John's hands, looking back and forth to each, repeating, "I'm OK. I'm OK."
"She was way more worried about us than we were about her," Cate Edwards said.
She talked of her mother's strength and grace and also of her witty advice about everything from clothing (there are always fewer regrets wearing solids than patterns) to marriage (don't settle for the first boy you ever meet).
"She's been a lighthouse to all of us -- a point of guidance when we all feel lost," she said.
The memorial brought several political figures, including Sen. John Kerry, who led the Democratic presidential ticket in 2004 that included John Edwards, and North Carolina Gov. Beverly Perdue.
Two of Elizabeth Edwards' longtime friends, Hargrave McElroy and Glenn Bergenfield, also gave eulogies.
McElroy spoke admiringly of the fiery woman who first became a close friend as the couple raised their young children, telling stories of Edwards' expertise at any pursuit that required intellect -- from board games to sports trivia. She said Edwards was always an optimist.
"She knew who she was. She never held back. She was without pretense," McElroy said.
Bergenfield described a woman he first met in law school who challenged her professors with a vibrant mind and who possessed "big world, head-turning, walk-into-the-pole gorgeous" looks.
He related anecdotes about how strong she was, but also how she was down-to-earth she was, seeming to care for each stranger she met, disarming campaign operatives with plain language or crawling under a dormroom bed to find clothing Cate had discarded.
"Nothing that she said publicly, as a mother, as an author or as a friend -- none of it fed or was in any way fueled by ego," he said.
Elizabeth Edwards was first diagnosed with cancer in 2004, a day after the Kerry-Edwards ticket lost to George W. Bush in that year's presidential election. Doctors declared her cancer-free after grueling treatments, but the disease returned in an incurable form in 2007. She died Tuesday.
Her last years were tumultuous ones, made difficult by her husband's affair and eventual admission that he'd fathered a child with the mistress. John and Elizabeth Edwards separated about a year ago.