DA says teen killed as part of mom's 'rape-murder fantasy' with boyfriend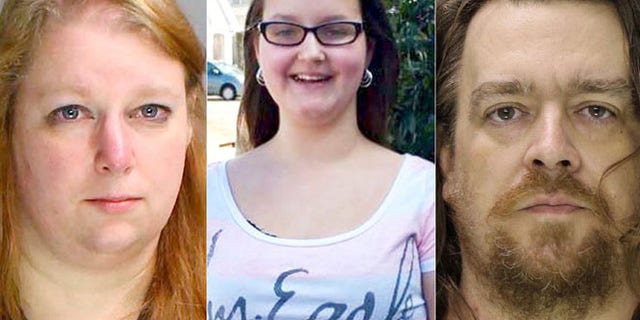 A Pennsylvania mother and her boyfriend acted out a "rape-murder fantasy" when they killed the woman's 14-year-old daughter in July, prosecutors said Sunday.
Sara Packer, 41, and Jacob Sullivan, 44, planned Grace Packer's murder for more than a year, killed her in July, and then stored the body in the attic of their rented home in Quakertown for nearly four months and later cut it up, The Philadelphia Inquirer reported, citing a court affidavit charging Sullivan with the gruesome crime.
The court papers say that before the killing Sullivan raped Grace while her mother watched, according to the paper.
The affidavit also states that the body was preserved in the attic in kitty litter.
"This was a sexual fantasy that was shared between Jacob Sullivan and Sara Packer, and Grace Packer was the object of that rape-murder fantasy," the paper quoted Bucks County Prosecutor Matthew Weintraub as saying.
Sullivan appeared before a judge early Sunday on charges of homicide, rape, involuntary deviate sexual intercourse, unlawful restraint, kidnapping, possessing instruments of crime, endangering the welfare of a child, abuse of corpse, simple assault, tampering with physical evidence, and corresponding conspiracy charges. He was jailed without bail.
Sara Packer was arrested hours later in Horsham Township on charges of homicide, kidnapping, unlawful restraint, possessing instruments of crime, endangering the welfare of a child, abuse of corpse, simple assault, tampering with physical evidence, and conspiracy to commit rape. Her arraignment was pending.
They each could face the death penalty.
Investigators said Sara Packer reported her daughter missing July 11. Hunters found the girl's dismembered remains in the woods on Halloween.
Fox 29 Philadelphia reported in December that Packer had been accused of hindering the search for her daughter by withholding information and secretly moving to another town.
The station also reported that Packer had pocketed $3,600 in disability benefits for her daughter after the disappearance.
The affidavit says staff at a hospital called investigators Saturday to report that Sullivan had confessed to the girl's killing, WFMZ-TV reported.
Sullivan and Packer had been hospitalized Dec. 30 after trying to kill themselves with pills.
Weintraub said that under subsequent questioning by Bucks County detectives, Sullivan revealed in detail how the girl was assaulted and killed over the course of about 18 hours, beginning July 8.
The affidavit states that after the rape, Grace was bound, gagged and left to die in a closet in the attic that Sullivan told investigators was "extremely hot," the station reported.
When she didn't die as expected, Sullivan then wrapped his arm around her neck and face, squeezing the life out of her, according to the affidavit.
Sullivan told detectives that Grace's body was cut up in a bathtub after cops paid them a visit in October and then discarded in the woods.
Two weeks before Grace's body was found her mother was captured on video buying a bow saw and two extra blades at a tractor supply store, the affidavit states.