Crews battling Navajo wildfire brace for more wind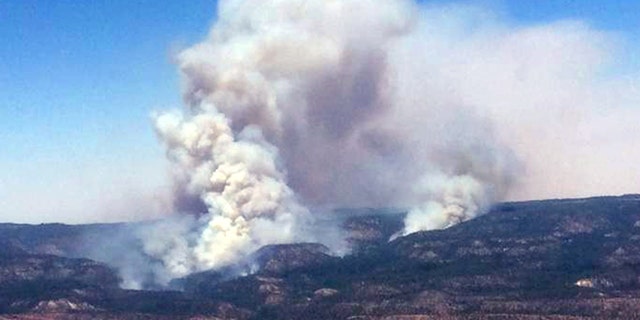 NEWYou can now listen to Fox News articles!
ALBUQUERQUE, N.M. – Firefighters are bracing for another day of hot, dry and windy conditions as they battle a fast-moving wildfire that has consumed thousands of acres of pinon and juniper forest along with traditional grazing lands that Navajo families depend on to raise sheep and other livestock.
The Assayii Lake Fire blackened more than 19 square miles in less than two days while making its way across summer and winter grazing areas in the Chuska Mountains, just east of the Arizona-New Mexico border.
The flames destroyed at least four structures and threatened about 50 homes near the communities of Naschitti and Sheep Springs, fire officials said. Some homes in Naschitti were evacuated, and authorities were urging desperate Navajo families to refrain from heading into the mountains to search for their sheep and other livestock.
That's been a challenge despite all the road closures, said fire spokeswoman Shari Malone.
"They really do value the life of their livestock more than they value their own," she said. "It's been difficult."
The Navajo Nation's Department of Agriculture has been busy rounding up trailers to move some of the livestock corralled and brought down from the mountain before the fire made its run Monday. Some Navajo families took to social media to ask for hay and water donations.
Leo Watchman, head of the tribe's agriculture department, said it was too early to say what might have happened to the sheep and cattle that were on the mountain when the fire broke out. He said ensuring the safety of the community members has been the priority.
"They haven't contained any of it yet, and they're just letting it burn right now because the winds are so high, and that presents a problem," he said. "How far out do you evacuate homes and livestock pens? We're not out of the danger yet."
Authorities did sweeps of sheep camps in the hills and evacuated some people Sunday and Monday. The fire has since burned through those areas.
Agriculture and livestock, especially sheep, have been key in the evolution of Navajo society and economy. The animals are a staple of Navajo life, their wool is prized for its use in rugs, and mutton is on the menu of restaurants throughout the region.
Tribal members have grazed sheep for centuries, withstanding the federal government's scorched-earth campaign during the 1860s in which their orchards and herds were destroyed in an effort to force them from their homeland. Decades later, they were forced to recover again after the government downsized their herds.
On Tuesday, close to 600 firefighters and other personnel were assigned to the blaze, along with dozens of engines, helicopters and planes. Crews have been trying to find places along the flanks where they could begin building a fire line. The unfavorable weather has hampered efforts to directly attack the flames.
The Assayii Lake Fire was one of several blazes making problems for western states.
In California, diminishing winds have helped firefighters surround 85 percent of a blaze burning near Lake Isabella in the southern Sierra Nevada. The blaze burned brightly and sent smoke skyward within the fire lines on Tuesday, but did not jump outside of them.
Residents were told late Monday they could return to about 1,000 mountain homes.
The blaze destroyed three houses, damaged another and forced hundreds to flee their homes. At least two of the burned houses appeared to be abandoned, the U.S. Forest Service said in a statement.
One other home was damaged by the fire, which charred more than 4 square miles of trees and brush in and around Sequoia National Forest. It also threatened power lines and communications facilities.
In northern Arizona, a 12-acre wildfire that broke out in Oak Creek Canyon was 25 percent contained. The fire was just north of a blaze that charred 31 square miles last month in the scenic canyon between Sedona and Flagstaff.