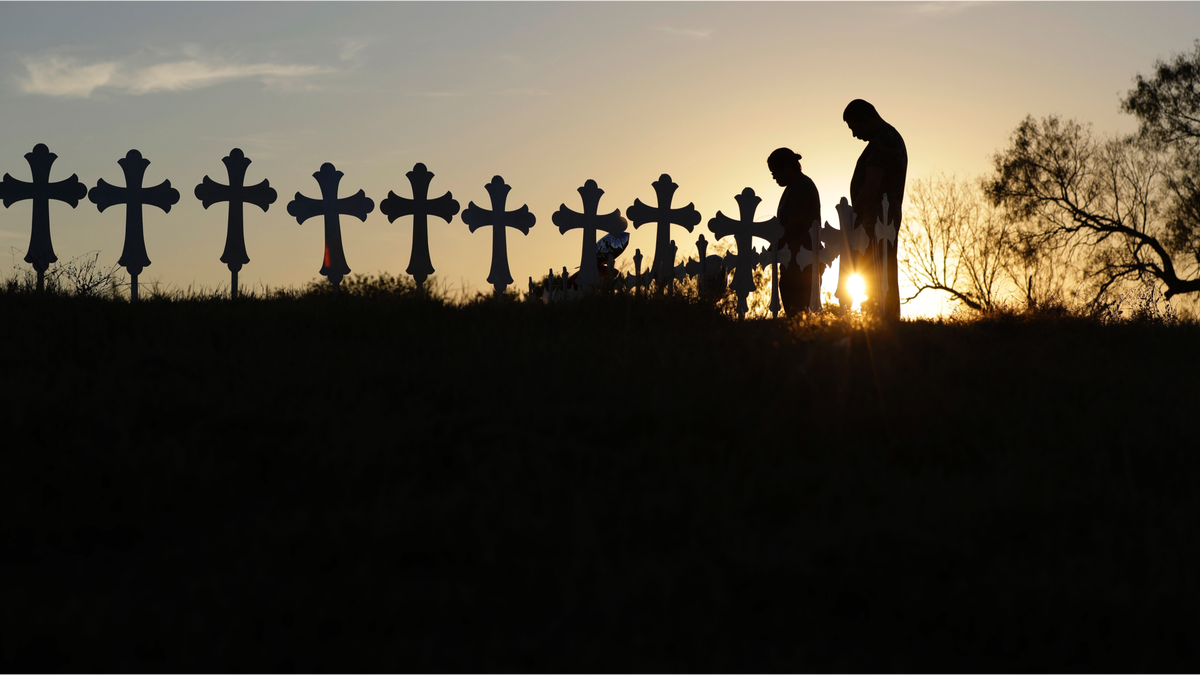 SUTHERLAND SPRINGS, Texas – Robert and Shani Corrigan moved around during his three decades in the Air Force. Married the summer after graduating from high school in Michigan, the couple first learned about the tiny town of Sutherland Springs, Texas, when he was stationed in San Antonio.
The couple bought a home in nearby Floresville and didn't sell it when Robert Corrigan was stationed at Air Force bases outside the state. When he retired about two years ago, the couple was able to put down roots, and a big part of their lives was First Baptist Church in Sutherland Springs.
"They kept that home and already had bonded with that community and knew that they were going to make that their home for the rest of their lives," his sister, Sharon Corrigan, told The Associated Press on Tuesday. "They raised chickens there. They had fallen into their happy life."
The Corrigans were among the more than two dozen victims killed Sunday when a gunman opened fire inside the small church.
The rampage killed several other longtime married couples and members of their extended families, many of them children. About 20 other church goers were wounded in the attack, which was the worst mass shooting in Texas history.
"Losing him and her is just so tragic," Sharon Corrigan said, noting two of the couple's adult sons also are in the Air Force. "We are so proud of them and love them so much."
Another family bears the unspeakable burden of nearly a third of the fatalities.
Visiting pastor Brian Holcombe and his wife, Karla, were at the church with nearly a dozen family members, including several of their grandchildren. The Holcombes' daughter-in-law, Crystal, a widow and already a mother of five, was pregnant. Crystal had recently married one of the Holcombe's sons, John.
John Holcombe survived, but those killed included his wife, three of her children, his parents, a brother and a toddler niece. Other victims included several members of at least one other extended family, a couple visiting for the church for first time and the 14-year-old daughter of the church's usual pastor.
Investigators said the victims ranged in age from 18 months old to 77 years old.
Investigators said the gunman, Devin Patrick Kelley, had recently sent threatening texts to his mother-in-law, a member of the church who wasn't there Sunday. Police said the shooting appears to have been driven by domestic tensions. Kelley, who was ousted from the Air Force for a 2012 assault on his ex-wife, was found dead with a self-inflicted gunshot wound later Sunday.
Also killed were 66-year-old Therese Rodriguez and 64-year-old Richard Rodriguez, a recently retired couple who enjoyed gardening and working on their house in nearby La Vernia.
His sister, Evangelina Santos, said the couple married about a decade ago. He had an adult daughter, while Therese Rodriguez had two adult sons.
"They were really giving," Santos said. "If somebody had a problem, they were there."
Santos said her brother would come to her house in San Antonio once a week to visit their parents, who live with her.
"He would bring us food, drinks. That was once a week, he would be here all day with us. So we're going to miss that," she said. "My parents are really taking it hard."
___
This story has been corrected to show Richard Rodriguez was 64, not 51.
___
Lozano reported from Houston. Associated Press writers Jamie Stengle and Claudia Lauer in Dallas, Emily Schmall in Fort Worth, and Frank Bajak in Houston also contributed to this report.