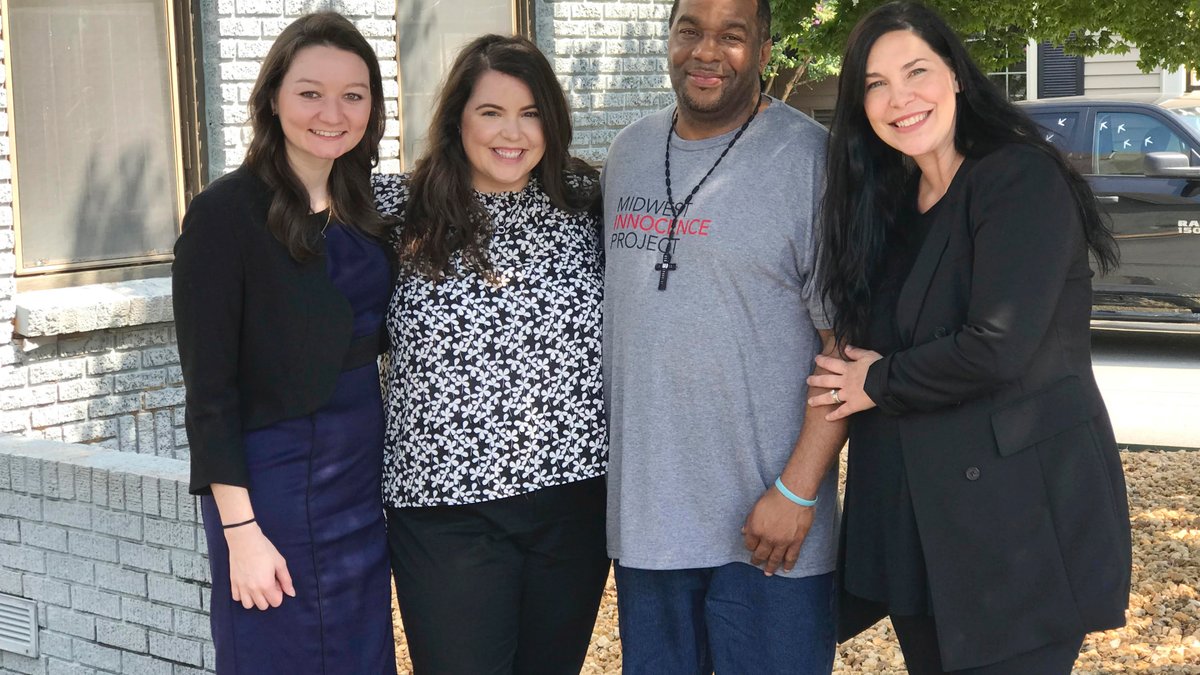 LITTLE ROCK, Ark. – In a story Sept. 19 about an Arkansas inmate being released from prison, The Associated Press misidentified the murder victim and her age. Her name was Myrtle Holmes, not Myrtle Jones, and she was 78 years old, not 72.
A corrected version of the story is below:
Arkansas inmate released from prison after judge's ruling
An Arkansas man whose 1992 murder conviction was overturned with the help of the Midwest Innocence Project has been freed from prison
By HANNAH GRABENSTEIN
Associated Press
LITTLE ROCK, Ark. (AP) — An Arkansas man whose 1992 murder conviction was overturned with the help of the Midwest Innocence Project was freed from prison Wednesday, describing the moment as "surreal" and saying he plans to meet up with his fiancée before traveling to see family in Las Vegas.
John Brown, 51, got cheeseburgers with his lawyers after U.S. District Judge Billy Roy Wilson ordered him set free. He spent 26 years behind bars for the 1988 robbing and killing of 78-year old Myrtle Holmes in Fordyce, a community about 60 miles (96 kilometers) south of Little Rock.
"I'm feeling great right now. Feeling great," Brown said. "I'm so blessed."
Wilson vacated Brown's convictions last month and gave the state 30 days to release or retry Brown. In his opinion, Wilson wrote that the "case is fairly cut and dried," and that the state failed to disclose evidence that could have cast doubt on Brown's guilt, calling it and other issues "constitutional violations."
An original trial in April 1992 resulted in a hung jury, but in August of that year, Brown, Reginald Early, and Tina Jimerson were convicted of murder.
In 2015, Early confessed to committing the crimes alone. The following year, the Midwest Innocence Project appealed on Brown's behalf, saying that his trial lawyer was "ineffective and corrupt," and arguing that the state withheld potentially exculpatory evidence. His lawyers argued that DNA evidence excluding Brown was withheld from the jury in the second trial.
The state attorney general's office appealed Wilson's decision to vacate Brown's convictions, and the appeal is pending. The state also asked for a stay of Brown's release, which was denied.
If the state's appeal succeeds, prosecutors could retry Brown. Dallas County prosecutor John Thomas Shepherd said his office is gathering original case files and evidence so he can decide whether to retry the case.
"I believe that my office owes it to the victim and to her family to fully look at this and be ready to retry this if we feel like it's warranted," Shepherd said.
One of Brown's lawyers, Erin Cassinelli, said she believes there is no evidence that would warrant another trial.
"We feel that an objective, fair review will very obviously result in John Brown maintaining his freedom," Cassinelli said. "We now know who committed this crime, and he is in prison and we're glad. That is justice. The family deserves to know what happened and now we finally know."
Jimerson, who is still in prison, is also appealing to have her conviction overturned.
___
Follow Hannah Grabenstein on Twitter: https://twitter.com/hgrabenstein