'Cops' taught suspect an escape trick, Florida deputies say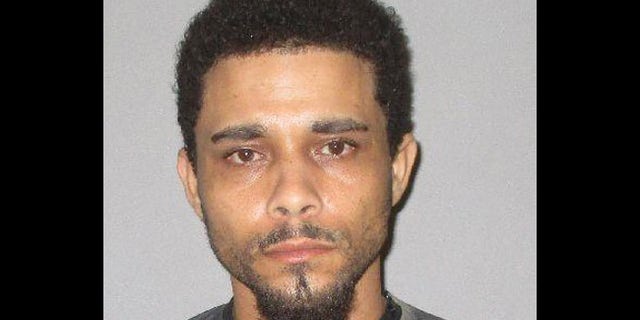 A suspect went to great lengths to avoid being taken into custody, busting out of the back of a patrol car using a trick he learned from the TV show "Cops," deputies in Florida said.
WANTED FUGITIVE WHO WAS DEPORTED TO MEXICO IN 2004 IS ARRESTED IN NJ
George Wood, 31, is charged with escaping, possession of a firearm and ammunition by a convicted felon, felony criminal mischief, resisting arrest without violence, aggravated assault on a law enforcement officer, and driving with a suspended license.
The Flagler County Sheriff's Office says one its deputies was driving through a Circle K parking lot when he noticed a heated argument, then saw a beer bottle fly out of a vehicle and burst on the ground. When that deputy tried to talk to the man accused of instigating the commotion, identified later as Wood, FCSO says Wood dove into his girlfriend's car then tried to drive away operating the car from the passenger seat.
ATTORNEYS FOR EX-SC OFFICER WANT MURDER CHARGE DISMISSED
FCSO says after struggling with deputies and refusing to obey commands, the deputy needed to use his Taser to get Wood to comply so he could be taken into custody. Investigators say as deputies were doing their investigation, Wood said he needed air, so the rolled down the window in the back of the cruiser for him. Minutes later, a deputy noted the back door of the cruiser was open and Wood was gone.
Deputies set up a perimeter, called in two K-9s, and Volusia County Sheriff's Office helicopter to track down Wood. Investigators found him up in a tree in a small wooded area about a quarter of a mile from the convenience store.
Commander Bob Weber says when was taken into custody the second time, he told the arresting deputy how he escaped out of the back of the cruiser.
"The mechanisms that were there to secure that cage were flimsy. The gentlemen told our officers he saw something on 'Cops' where if you could rip off the cage, you could crawl out the window," said Commander Weber.
FCSO upon inspection the realized the cages in 7 of their older cruisers were only secured by 2 screws. Throughout the day, Commander Weber says those older vehicles were taken out of services so the cages could be reinforced.