Cop accused of telling teen: 'Welcome to white man's world'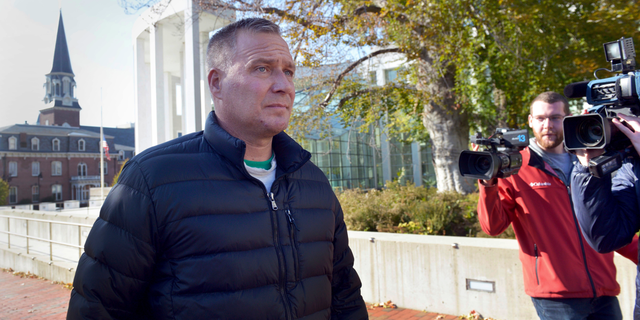 SPRINGFIELD, Mass. – Two police officers used excessive force while arresting two Latino teenagers, and one officer said "welcome to the white man's world," according to a federal indictment unsealed in Massachusetts.
Springfield police Officer Gregg Bigda and former detective Steven Vignault pleaded not guilty during an initial court appearance Wednesday, hours after they were arrested. A judge released both men without bail.
Bigda served a 60-day suspension in connection with the February 2016 confrontation. Vigneault has since retired from the force.
According to the indictment, Bigda kicked one of the teens in the head during the arrest, which occurred in the town of Palmer following a pursuit that began in Springfield after the youths allegedly stole an unmarked police SUV that had been left idling outside a pizza shop. Springfield is the third-largest city in Massachusetts.
Bigda also spat on the boy and made the "welcome to the white man's world" comment, prosecutors said.
Vigneault was charged with using excessive force on the other teen.
Both teens were injured, according to the indictment.
Bigda faces additional charges of filing a false police report and in connection with obscenity-laden threats he allegedly made during a subsequent interrogation of one of the suspects that the indictment described as "so abusive that it shocks the conscience."
At one point, Bigda pointed to blood on his boot. He warned the teen that if he lied, his blood would be on the boot, as well, the indictment said.
"Even in the face of adversity, law enforcement officers are expected to conduct themselves professionally, respectfully, and with integrity," U.S. Attorney Andrew Lelling said in a statement. "They are ambassadors for the rule of law, and when they themselves break those laws, they violate not just the rights of their victims, but compromise the public's trust in law enforcement."
Daniel Kelly, an attorney for Vigneault, said outside of court Wednesday that he expected his client to be exonerated, MassLive.com reported.
"There is a tendency to rush to judgment in cases like these," Kelly said. "We would ask that the public not rush to judgment."
Following Bigda's arrest Wednesday, city officials announced that he had been suspended from the force without pay. His attorney did not return an earlier message seeking comment.