Congress again backs religious envoy, but Senate, Obama silent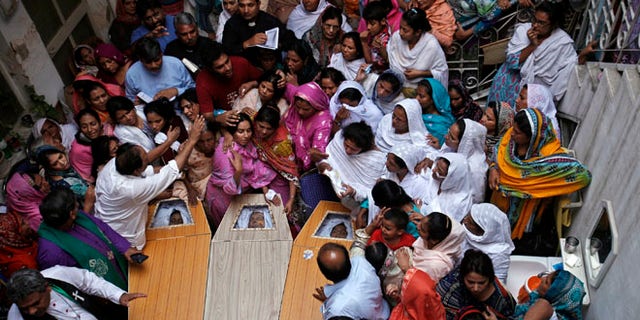 NEWYou can now listen to Fox News articles!
In a rare non-partisan move, the U.S. House of Representatives has voted overwhelmingly to create a special envoy for religious freedom in South Central Asia and the Middle East, but the measure will go nowhere without help from the Senate and White House.
The legislation – drafted by Reps. Anna Eshoo (D-Calif.) and Frank Wolf (R-Va.) – was approved with 402 votes in favor and 21 Republicans and one Democrat against.The bill, if approved by the Senate, would create a special office within the State Department for an envoy who could become an advocate for religious minorities.
"Will a special envoy guarantee these communities' survival and even flourishing? I do not know," Wolf said in a speech before the House earlier this month. "But I am certain that to do nothing is not an option, lest on this administration's and this Congress's watch we witness a Middle East emptied of ancient faith communities, foremost among them the "Sunday People."
The legislation is supported by many large religious groups in the U.S., including the U.S. Conference of Catholic Bishops, the United Methodist Church, and the Southern Baptist Convention. Many Jewish and Muslim groups have also endorsed the legislation.
Wolf applauded those who voted for the legislation in a statement to FoxNews.com.
"I applaud my colleagues for voting for this bill, which sends an undeniable message to persecuted people of faith the world over, and just as importantly, to the forces that oppress them, that America – this shining city on a hill as envisioned by our founders – will not be silent in the face of the evil," he said. "I urge the Senate to act swiftly and send this legislation to the president's desk for signature. A special envoy for religious minorities is long overdue."
The same piece of legislation was brought forward for a vote on Capitol Hill hill back in 2011 and was also passed by 402 votes but blocked when it moved on to the Senate for a vote. Critics fear that, without support from the White House, the Democrat-led Senate will once again let the bill die.
"Passage of this legislation comes at a critical time for religious minorities, especially in the Middle East. This new special envoy will give a new voice to the millions being persecuted for their faith -- be it the Coptic Christians in Egypt, Christians like American pastor Saeed Abedini imprisoned in Iran, or countless others," Jordan Sekulow, executive director of the American Center for Law and Justice, told FoxNews.com.
The House vote comes as attacks against religious groups – Christians in particular – have risen sharply around the globe.
Last Sunday two suicide bombers attacked the historic All Saints Church in Peshawar, Pakistan, killing 85 people.
According to recent reports, more than 40 churches and other Christian institutions and schools have been attacked in Egypt alone, with Coptic Christians targeted by Islamic extremists since Mohamed Morsi was ousted as president.