Community raises $60G for homeless teenager in just one day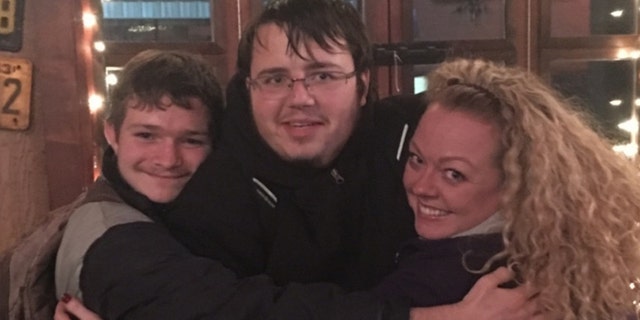 NEWYou can now listen to Fox News articles!
The power of a community coming together is being felt in at northern Texas city that helped raised more than $60,000 in just one day for a homeless teenager described as the "nicest, most gracious person."
Colleen Hoover, the owner of a non-profit bookstore in Sulphur Springs, launched a GoFundMe campaign on Wednesday to help out Anthony, a 19-year-old who she says has pulled through life despite his mother abandoning him four years ago and being homeless for much of that time.
"He doesn't steal. He doesn't beg. He doesn't make excuses," Hoover wrote on the website, saying he occasionally volunteered at the store. "He only knows how to be gracious and appreciate what he has, which is very little."
POLICE OFFICER CREATES PORTRAITS OF OFFICERS KILLED IN THE LINE OF DUTY
She wrote that she began the campaign because despite the "crap piled on top of more crap" that he has had to survive, "he is so good."
"He's the type of human I hope my boys turn out to be," Hoover added.
ORLANDO CHICK-FIL-A HONORS FALLEN OFFICER WITH TRIBUTE TABLE
According to Hoover, Anthony – she doesn't give out his last name – was 15 when he and his mother moved to the area. After a little while, she left to go back to Oklahoma without him, promising she would return in a couple of days. But she never did and Anthony was left homeless.
"He hid it for a while, sleeping where he could, when he could," she wrote, adding that he continued to attend school and got some help from community members. "[However], his life became a game of survival."
He learned that wearing all black helped him blend into the bushes at night and carrying his backpack at all times meant it would not be stolen.
The residents of Sulphur Springs have rallied together to help him out – businesses gave him food, gave him off jobs for money and even opened some places early so he could catch some hours of sleep off the streets.
"Temporary assistance from people in this community has probably saved his life," Hoover wrote, "But he's been hanging on by a thread."
A few months ago, the community found a small apartment for him to rent – his first secure shelter in over five years. He has signed up for GED classes and is on food stamps until he can find a full-time job.
Through all of this, Anthony has kept working to not let his circumstances define him.
"This kid, who was abandoned at fifteen, is the nicest, most gracious person I have ever met," Hoover wrote. "He is always in a good mood. Always willing to help out. Always smiling. And he has never blamed anyone for the situation he's been in these last few years."
She added: "He never makes excuses. And he tries. He tries so hard to get out of the situation he's been in. … I'm writing this because Anthony is an inspiration to me. Daily."
Anthony's story has touched more people than those in Sulphur Springs, about 90 miles northeast of Dallas. More than 2,100 people from around the world, inspired, have donated more than $60,400 and counting in just one day.
"Anthony is really overwhelmed by the support! We all are. Absolutely incredible… You're all angels!" Hoover wrote late Wednesday night.