Colorado girls' bodies were submerged in crude oil 4 days, documents reveal
The bodies of two missing Colorado girls, ages 3 and 4, were submerged in crude oil for four days before they were recovered Thursday, court documents revealed.
The girls' father, Christopher Watts, stands accused of murdering his pregnant wife, Shanann Watts, 34, and their two daughters, Bella, 4, and Celeste Watts, 3.
The girls may have been strangled to death, the Denver Post reported.
Sources told Denver's KMGH-TV that the father may have placed the girls' bodies inside oil and gas tanks on his employer's property in order to prevent passersby by from smelling the corpses.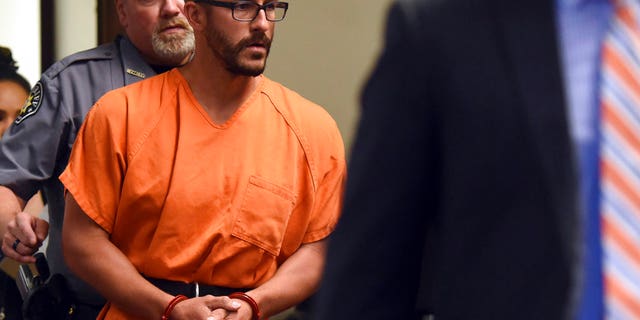 The body of Shanann Watts was found nearby, authorities have said, but details were not disclosed, the station reported.
Christopher Watts' attorney, James Merson, filed a motion Friday defending his client against accusations that he killed his wife and children. Authorities separately announced Friday that the Weld County Coroner's Office had performed autopsies and confirmed the bodies as being those of Shanann, Bella, and Celeste Watts, Denver's FOX 31 reported.
Before his arrest Wednesday, Christopher Watts told reporters he missed his wife and daughters and that he longed for the simple things like telling his girls to eat their dinner and gazing at them as they curled up to watch cartoons.
COLORADO DAD'S LAWYER SEEKS DNA SAMPLES FROM DAUGHTERS' BODIES, BUT JUDGE REJECTS FORENSICS EXPERT: REPORT
Police have not released information on a motive or how the mother and daughters died. More testing is planned to help determine the cause of their deaths.
Watts, an oil and gas worker, who authorities said dumped his wife and daughters' bodies on his employer's property, is expected to face formal charges Monday.
Police said the mother, Shanann, was found dead on property owned by Anadarko Petroleum, one of the state's largest oil and gas drillers, where 33-year-old Christopher Watts worked as an operator. Investigators found the bodies of Bella and Celeste nearby. Watts was fired Wednesday, the same day he was arrested, the company said.
The family's two-story home is just outside Frederick, which is about 30 miles north of Denver.
CHRIS WATTS IN PROTECTIVE CUSTODY BECAUSE OF PUBLICITY SURROUNDING TRIPLE-MURDER CASE: REPORT
Christopher Watts reportedly began working for Anadarko as an operator in early 2015, according to a bankruptcy filing from June that year. Shanann Watts was then working in a call center at a children's hospital, earning about $18 an hour.
Records suggest that the couple, who earned a combined income of $90,000 in 2014, faced mounting debt, including thousands of dollars in credit card debt, student loans and medical bills.
Details about what led police to arrest Watts late Wednesday night on suspicion of three counts of murder and tampering with evidence likely are to be revealed next week.
Prosecutors will ask a court to unseal the affidavit for Watts' arrest after filing formal charges, which are due by mid-afternoon Monday, said Krista Henery, a spokeswoman for district attorney Michael Rourke.
Family and friends have been left to reconcile the Wattses' ostensibly good reputation with the pending charges.
"I just don't understand it," said Ashley Bell, a close friend of Shanann Watts, who described Christopher Watts as a loving father.
"She didn't give me an indication that there was anything wrong. She seemed pretty happy," said Joe Beach, the next-door neighbor of Shanann's parents.
The case, which includes the death of Shanann Watts' unborn child, has brought renewed focus on Colorado's lack of a law allowing homicide charges in the violent death of fetuses.
Proposals to allow homicide charges in the violent deaths of fetuses in Colorado have been stymied by debate about how to avoid infringing on abortion rights.
The Associated Press contributed to this report.