Collision worries prompt Navy review of all staff, ships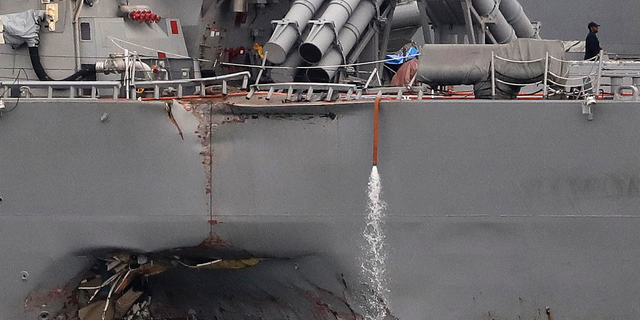 WASHINGTON – Concerned about widespread training and leadership failures in the Pacific fleet that triggered two deadly ship collisions, the Navy's top officer said Thursday that he's asked his commanders around the world to review their staff and ships to see if they have similar problems.
In a memo sent to all Navy commanders, Adm. John Richardson, chief of naval operations, said each commander must assess where they are vulnerable and what corrective actions they should take, then report those findings back to him.
"Fight the temptation to conclude this could never happen to us — it can," said Richardson in the message that went out on Thursday. "This effort starts with each one of us in command."
Asked during a Pentagon press briefing if he believes similar problems exist on U.S. ships in other parts of the world, he would only say, "We want to look at everybody and find the vulnerabilities and plug them where they exist."
Richardson said he accepted blame for the training lapses and deep cultural failures that permeated the Navy's Pacific-based fleet and led to what he said were "preventable" accidents.
"I feel responsible for this," he said. But he also said that he believes he can remain on the job with the full confidence of the fleet and his sailors.
He acknowledged that the Navy needs more ships in the Pacific because there is a "mismatch" between the emerging mission there and the level of naval power that can be generated and sustained. That gap, he said, "can really only be met by additional naval forces, more ships."
He declined to cite how many more, saying that issue is being developed now, but that the numbers can change based on the evolving mission.
The USS John S. McCain and an oil tanker collided near Singapore in August, leaving 10 U.S. sailors dead. And seven sailors died in June when the USS Fitzgerald and a container ship collided off Japan. The USS Lake Champlain collided with a Korean fishing vessel in May and the USS Antietam struck bottom near a shoal in Tokyo Bay.
As a result of the two deadly accidents, eight top Navy officers, including the 7th Fleet commander, were fired from their jobs, and a number of other sailors received reprimands or other punishment that was not publicly released.
In a report released this week, the Navy concluded that three collisions and a ship grounding this year were all avoidable, and resulted from widespread failures by the crews and commanders who didn't quickly recognize and respond to unfolding emergencies.
A second report released Thursday called for about 60 recommended changes to address the problems. They range from improved training on seamanship, navigation and the use of ship equipment to more basic changes to increase sleep and stress management for sailors.
"The Navy's been run hard in the past 16 years of war and the pace is picking up, especially in the Pacific," said Richardson, referring to increased naval operations in a region where China has become more aggressive and North Korea continues its military threats and pursuit of nuclear weapons.
"Recent experience has shown that if we're not careful, we can become overstretched, overextended. And if we take our eye off the fundamentals, we become vulnerable to mistakes at all levels of command," he said.