College football players, fans sing 'Star-Spangled Banner' after PA system fails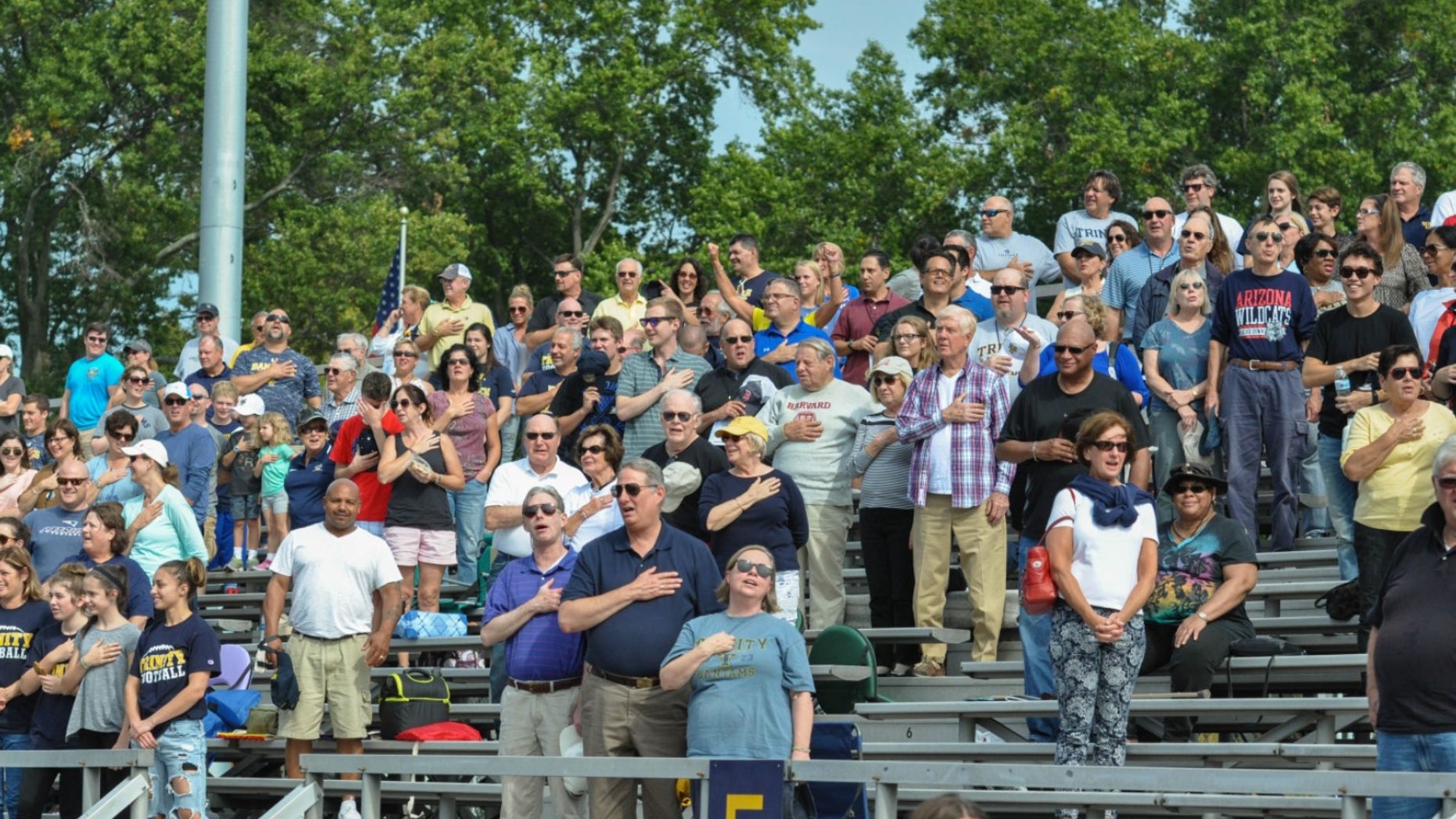 It was just another college football game on Saturday in Hartford, Connecticut, until just before kickoff, an announcement came over the loud speakers that there would be no playing of the national anthem.
Everyone was on the field, the coin toss had just happened, and players had their helmets off, standing at attention, ready for the anthem to be played, Coach Jeff Devanney told Fox News.
But after a few moments of silence, it was announced the PA system failed – and there would be no playing of the Anthem.
Trinity senior fullback Ethan Suraci told Fox News the silence "felt like forever, honestly. You could hear the crowd and the opposing team" expressing disappointment over the announcement.
Suraci said he immediately started belting out the words to what he calls "America's song," which also happens to be his favorite song, and it seemed everyone joined in.
"There were almost three different waves of the Star-Spangled Banner going," Coach Devanney said. Trinity's team, Hamilton's team, and the crowd each had started singing "almost like an echo," but he added, "It all seemed to end on the same note."
"That was awesome!" said sportscaster Jake Donnelly, who captured the video and posted it on YouTube. "Not many tenors on either end of the field here this afternoon, but a bunch of players that absolutely love America and love the National Anthem. That was one of the coolest things I have ever seen," Donnelly added.
"It was a fantastic display of unity and patriotism and gave everyone in the crowd, the teams, and hopefully those who watch the video; chills of hope for a better United States of America and happiness to see us as a society beginning to heal - despite the polarization we see among the citizens and our politicians," Suraci said.
The incident came a day before Vice President Mike Pence's decision to leave Sunday's NFL game between the Indianapolis Colts and the San Francisco 49ers, when several 49er players kneeled during the Anthem.
Coach Devanney said he discussed the NFL protests with his team, calling it a "complicated issue."
President Trump tweeted Wednesday it's "about time" NFL's Goodell called on players to stand for the national anthem.
The senior political science major, who identifies as a Republican and voted for Trump, agrees.
"I am in total agreement with one's constitutional right to protest. However, these players are protesting in an incorrect forum," he said. "Why insult an entire country and all those who fell for her?"
The 5-foot-10-inch, 225-pound fullback always stands and proudly holds his hand over his heart, just as he did on Saturday.
No one really knows who first started singing the anthem in at the Jessee/Miller Field, but Coach Devanney told Fox News, "I wouldn't be shocked if Ethan was the first one, given his love of the song."
In fact, Suraci listens to the "Star-Spangled Banner" as sung by Celine Dion every day after he's done with school.
"I love the Star-Spangled Banner so much because I love America," Suraci said. "It's as simple as that."