Cold, dead hands: Buffalo to seize guns from families following owners' funerals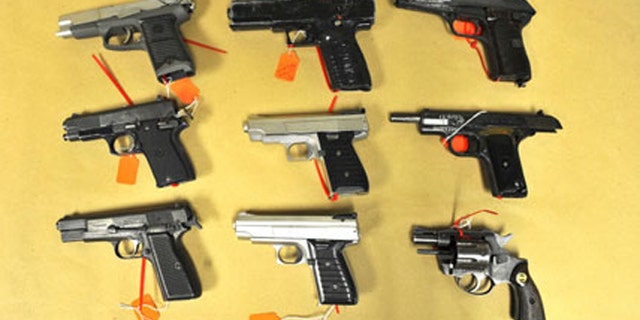 A plan by police in Buffalo, N.Y., to begin confiscating the firearms of legal gun owners within days of their deaths is drawing fire from Second Amendment advocates.
The plan is legal under a longstanding, but rarely enforced state law, but gun rights advocates say, with apologies to onetime NRA spokesman Charlton Heston, it is tantamount to prying firearms - some of which may have substantial monetary or sentimental value - from the cold, dead hands of law-abiding citizens.
"They're quick to say they're going to take the guns," said Tom King, president of the New York State Rifle & Pistol Association. "But they don't tell you the law doesn't apply to long guns, or that these families can sell [their loved one's] pistol or apply to keep it."
King said enforcing the state law is the latest example of authorities targeting law-abiding gun owners, while doing little to secure the streets.
[pullquote]
Buffalo Police Commissioner Daniel Derrenda said at a press conference last week that the department will be sending people to collect guns that belong to pistol permit holders who had died so "they don't end up in the wrong hands." The department will cross reference pistol permit holders with death records and the guns will be collected when possible, he said.
Derrenda said guns pose a threat if their owner is no longer alive to safeguard them, especially if a recently-deceased gun owner's home is burglarized.
"At times they lay out there and the family is not aware of them and they end up just out on the street," he said, according to WGRZ.com.
The state law says that if the permit holder dies, the estate has 15 days to dispose of the guns or turn them in to authorities, who can hold the weapons up to two years. LoHud.com reported that violation of the law by survivors is a misdemeanor punishable by up to a year in jail and a fine.
Pro-gun websites took Derrenda's comments as an affront to the Second Amendment, with BearingArms.com claiming authorities could "use the relative's pistol permit as the proverbial camel's nose under the tent to get at every firearm they can, hoping to remove all the firearms from the home while the family is at their most vulnerable."
The state law has been in the books for years but not enforced, King said. The Erie County Sheriff's Office told FoxNews.com that it learned about the Buffalo police decision after the announcement, but has no plans to invoke it on a regular basis as the city of Buffalo does.
Dominic Saraceno, a Buffalo defense attorney, said he anticipates legal challenges. He is concerned that family members may simply allow police to retrieve the guns while not realizing their value.
"These gun collections can value into the hundreds of thousands," he said. "If a police officer came to my door without a warrant signed by a judge, I'm not giving them anything. Most people don't know that and get intimidated."
Calls to Buffalo's mayor's office and to the police department were not returned. But the city has employed other programs, including buy-backs, to help counter gun violence. One such program took place in August and netted 840 guns. Critics of these buy-back programs say most people who turn in their guns are likely law-abiding citizens and these numbers do not necessarily estimate illegal guns off the streets.
"I say to those critics, again, if we can get one of these guns off the streets that could be used to commit a crime or injure a member of our community, it's a good thing," Mayor Byron Brown told WIVB during the summer.