Coast Guard: Cocaine seizures off Latin America this year soared to highest levels in 5 years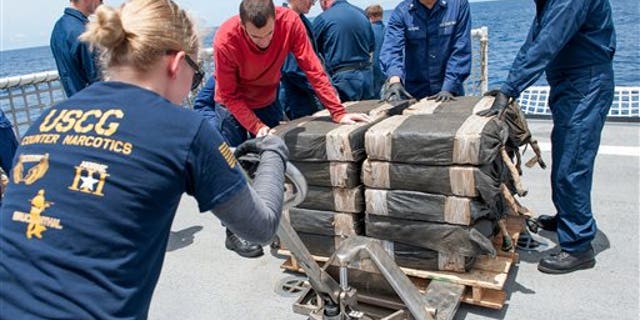 NEWYou can now listen to Fox News articles!
The U.S. Coast Guard said Monday cocaine seizures off Latin America's Pacific coast have soared in 2015 to their highest levels in five years.
During a press conference in San Diego, federal officials lauded the efforts of the Coast Guard aided by the Navy, federal law enforcement agencies and the navies of allied nations that have resulted in the seizure of 119,000 pounds of cocaine worth about $1.8 billion over the past 10 months.
Authorities said that's more than the total amount of cocaine seized in fiscal years 2012, 2013 and 2014 combined.
"This is about more than just trying to keep drugs off U.S. streets," the Coast Guard Commandant, Adm. Paul Zukunft, said. "The cultivation, trafficking and distribution of narcotics fuels violence and instability throughout the Western Hemisphere, leaving a path of destruction directly to the door step of the U.S."
"We must continue to make progress in our effort to combat transnational organized crime networks to ensure safety and security in our hemisphere," Zukunft said.
Traffickers have been increasingly turning to the high seas to get their loads to U.S. markets, and skirt the tightened security on land at the U.S.-Mexico border.
The drugs were seized in 23 separate interdictions by U.S. Coast Guard cutters and Coast Guard law enforcement teams operating from U.S. Navy vessels in known drug transit zones near Central and South America, resulting in the apprehension of more than 215 suspected smugglers.
"There is still work to be done," Zukunft said. "We can only act on 30 percent of known drug shipments in the Eastern Pacific and Caribbean ... We must increase already hard earned momentum to curb the rising tide of crime, violence and instability in our hemisphere."
The Associated Press contributed to this report.