Closing arguments heard in NYC cop's stairwell shooting trial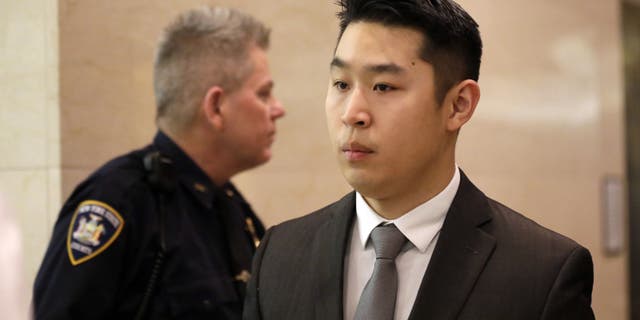 NEWYou can now listen to Fox News articles!
NEW YORK – The rookie police officer who shot an unarmed man in a dark public housing stairwell says what happened was a deadly accident. Prosecutors call it manslaughter and say he acted recklessly and then did little to help the dying man.
Jurors could start deliberating as soon as Tuesday afternoon on whether Officer Peter Liang's actions amounted to a crime.
Liang, 28, is charged with manslaughter and official misconduct. He testified this week that he didn't know anyone was in the pitch-black stairway when he unintentionally fired his drawn gun while on patrol after being startled by a noise.
The shot ricocheted off a wall and hit Akai Gurley, 28, who was taking the stairs down rather than wait for an elevator.
"There's no doubt Akai Gurley was innocent in this whole thing," Liang's lawyer, Robert Brown, told jurors in his closing argument Tuesday. "But you all promised not to let your emotions get in the way."
Liang testified Monday that after firing the shot, he beamed his flashlight into the stairwell and initially saw no one. Liang acknowledged that he didn't immediately report the shot. Fearing for his job, he bickered with his partner about which one would phone their sergeant.
Then he went looking for the bullet and heard someone crying. He followed the sound down three flights and saw Gurley lying wounded.
"I said, `Oh, my God, someone's hit!" Liang recalled, fighting tears and turning away from the court audience. He took a brief break from the witness stand to compose himself.
As he radioed for an ambulance, Gurley's girlfriend, Melissa Butler, tried to resuscitate Gurley, following instructions relayed by a neighbor who was talking to a 911 operator.
Yet Liang did not try to help. He said he thought it would be better to wait for professional aid.
Prosecutors questioned that decision and sought to show that he had been trained in handling firearms and unexpected, risky situations. Outside court, Gurley's relatives called for Liang to be held accountable for what they see as a callous killing.
"Peter Liang walked away and left Akai to die in his own blood," said Gurley's mother, Sylvia Palmer.
The shooting came in a year of protests and nationwide debate about police use of force, especially after grand juries declined to indict white police officers in the deaths of Eric Garner in New York and Michael Brown in Missouri. Both Garner and Brown were black and unarmed.
Gurley, too, was black. Liang is Chinese-American.